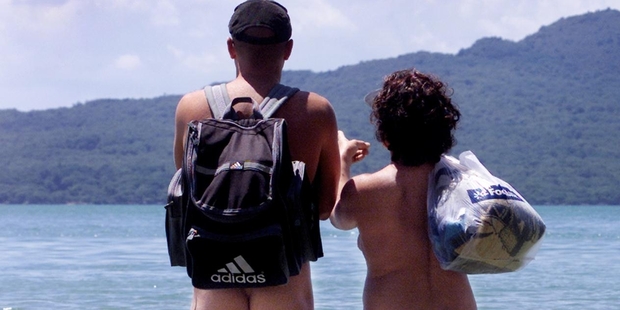 Stories making headlines across New Zealand at noon include nudists inviting everyone to get naked, doggy dealings and an Arrowtown underwear thief.
Tauranga nudists are offering an opportunity for people to experience the apparently stress relieving freedom of "nude recreation."
An underwear thief has struck again in Arrowtown.
45 dogs have been rescued from a property north of Hamilton. Over in Hawke's Bay, Roofus was minding his own business at home when he was mutilated.
Meanwhile a High Court judge has granted Jimbo a stay of execution. But another dog will walk death row in Tauranga today. Molly the cat is one of the lucky ones.
More than 200 dogs of all shapes and sizes will jump, weave and balance in Ashburton this weekend.
Social Development Minister Paula Bennett has stopped Kaikohe beneficiary Sam Kuha from starving himself to death.
Police woke up an Auckland motorist in his car with the engine running who had heaps to drink and had ended up in Whangarei, when he had been heading to Rawhiti, about 77km north.
A High Court judge is taking a chance on Whangarei drug dealer Ike Kingi.
Free admission to Tauranga swimming pools for children and young teens would cost ratepayers an extra $13 for each household.
Velma Zandstra, 84, who died on her daily walk after being hit and killed by a reversing car, had lost her son and daughter.
Meanwhile, the saga of Napier's unroadworthy "Art Deco" buses continues.
Rose felt powerless to protect her children because of the amount of ongoing violence against her, but acknowledged that she had failed her children. Meanwhile vulnerable children will apparently need more than a database to escape being beaten up by mums and dads.
Apparently many at risk children are known to social agencies already. But a new anti child abuse plan will apparently require an "incredibly large amount of work and resources" for it to happen.
Max John Beckham was once a successful businessman but then he started manufacturing and supplying methamphetamine, cocaine, MDMA and cannabis, and money laundering.
A flash mob of fifty-five children taking part in the Playtopia School Holiday programme was caught on video.
Rotorua is the latest town to be plagued by aggressive and psychotic synthetic cannabis users.
After checking no one was home and eating a pie from the kitchen, Phillip Waring found a small butane gas camp stove, placed it under a sofa and lit it.
Do you think there should be a youth wage?
A woman died and a man was injured as fire engulfed their Tikitiki home.
After helping steal a 91-year-old woman's handbag, Pouwhare Renata Naera sent her flowers the next day.
Two Wanganui liquor store owners say the proliferation of alcohol retailers in the city is unsustainable and taking its toll on the community.
Stay together in groups when you go out tonight and, when you leave to go home, don't leave anyone behind.
In Christchurch, Emma Lee Lamb stole several thousand dollars from her elderly neighbour to play the pokie machines. Meanwhile students dressed in costumes and drinking are causing problems.
In Fendalton, the Kereru flew in for their tree but it wasn't there, so they just sat in the middle of the mess.
Apparently there is a danger that most ongoing memories about Christchurch will just be about the earthquakes and not the great things that once stood in the 162 years beforehand.
Dunedin man Muhammad Saib (22) has lost count of the number of jobs he has applied for.
Southern District Health Board boss Carole Heatly was paid at least $120,000 in her first four months in the job.
Meanwhile two underground tattooists in Dunedin have been shut down.
By 2031, it is predicted that 36 per cent of Waitaki's population will be over 65 years old.
Omarama police Constable Nayland Smith is astounded by the number of drivers who speed past the township's primary school.
Meanwhile Prime Minister John Key has been spotted at another brewery, this time on the West Coast of the South Island. He also had some whitebait patties at the Tancred Street plumbing business.
Top trending topics on Twitter in NZ at Noon were: #50factsaboutme, #trentto38K, #LunchtimeDanFollow, #OTAvAUC, #askjayden, Paris, #MotorwayPatrol, #foodrelatedfilms, #XFactorTV3 and #spbkchat.