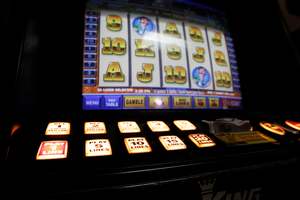 A woman stole several thousand dollars from her elderly neighbour to play the pokie machines after befriending her.
Emma Lee Lamb, 44, from New Brighton in Christchurch, pleaded guilty in the District Court on Wednesday to 13 charges relating to an eftpos card she took from her 82-year-old neighbour.
The court was told she withdrew $7370 in lots of up to $900 over three days in August after obtaining the PIN.
She unsuccessfully tried to get another $4960 in 11 transactions. She almost drained her neighbours account.
Lamb was caught when ANZ bank security measures detected abnormalities in the frequency and amounts being withdrawn on the card.
She had been looking after her elderly neighbour and driving her to the supermarket.
She denied she had taken the card but ATM security footage showed her withdrawing the money.
Lamb told The Star yesterday she had spent the money on playing the pokie machines, but would not say how much or where.
Asked if she regretted what she had done or felt sorry for her elderly victim, Lamb said: "It's got nothing to do with you. I've had a gutsful."
She then hung up.
The elderly woman told The Star Lamb had not spoken to her or apologised since she was arrested.
She still lives next door to her.
"She's been living next door to me for 10 years and she's always helped me out around the house. We had quite a good friendship but not anymore. For the last eight years we would regularly go out shopping and have lunch at a restaurant. I can't even talk to her. I can't even look at her. I never thought she would've done anything like this to me. She must've thought I needed ripping off. She's had a party with my money. I trusted her," the woman said.
ANZ has refunded the money.
Lamb will be sentenced early next year on the 13 charges of taking a document for the purpose of gaining pecuniary advantages and using that document for pecuniary advantages.
Sergeant Andrew Judson who investigated the case said Lamb had committed a despicable offence.
"She's targeted an elderly lady who trusted her. The victim was in a vulnerable position and lost thousands of dollars. Anyone who targets the elderly like that is just a despicable act."