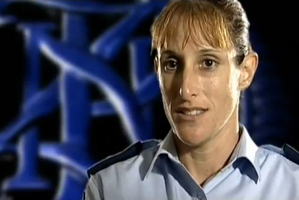 A policewoman charged over the theft of a flashy boyracer car says she had no part in the crime and blamed it on her boyfriend at the time- a violent offender on bail whom she met through her job as a court jailer.
Karis Rewa Charnley, 34, is accused of giving her uniform and a police impound notice pad to Cameron Ross in February.
Ross, wearing the uniform, posed as an officer and used the impound notice to "seize" a car belonging to North Shore teenager Jerome Kino.
Charnley denies any involvement in the theft, but admitted trying to cover up what Ross had done because he had been physically abusing her and she was "terrified" of him.
In the North Shore District Court yesterday Charnley said she met Ross in court in 2011. She felt sorry for him and struck up conversation.
They exchanged numbers and in January Charnley met him at the Stillwater boat ramp near the camping ground he was bailed to under curfew for violence charges, and they started a sexual relationship.
In February Ross and another man stole Mr Kino's car. It was recovered in pieces at a Paremoremo property.
Charnley told the court Ross must have taken her uniform and the pad from her police duty bag, which had been under her bed since she was suspended.
"I didn't assist him by giving my uniform to him," she said.
She claimed Ross had come to her house with a man named Doug the night the car was taken. She said he must have taken the uniform then.
When they arrived back later Ross was wearing her uniform. The men had the stolen car with them.
"I was pretty horrified. I was scared, disappointed. I didn't want to know ..." Charnley said.
The next night Charnley tried to take the uniform from Ross, who then assaulted her.
"He beat the crap out of me. He gave me a pretty mean hiding," she said.
Charnley later put the police items in a bag, hiding them in a bush until she could smuggle them to her son. The son said his mother instructed him to "burn" the papers in the bag and that she had "f****ed up".
Charnley did not report Ross to police because she felt he would hurt her or her family.
Police accused Charnley of "fabricating" her version of events to shift the blame to Ross.
Judge Brian Callaghan reserved his decision until November 22.