Auckland hardliners are among only a few left, says national body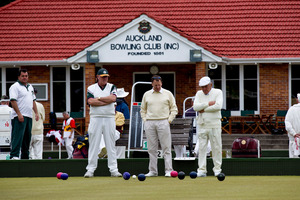 Bowls NZ says the Auckland Bowling Club is among just a minority in the sport to persist with single-sex membership.
Only 28 of the country's 583 clubs exclude women or men from full membership, says the national body's business development, communications and marketing manager, Nicole Ramage.
She said yesterday that 26 of those shared greens with clubs of the opposite sex, leaving only the Auckland club and another in Christchurch as separate men-only groups.
That followed a drive to liberalise membership rules since men's and women's national bowling associations merged into one organisation in 1996.
At that time, more than 1300 clubs were operating on gender-specific lines, though often at shared sites.
"We do not support the continuation of single-gender clubs in today's society," Ms Ramage said.
"Our sport is values-based and any segregation or obstacle for people to play the sport does not fit within our values and mission."
Her comments followed the 151-year-old Auckland club's rejection of a remit seeking full membership for women on its site on council-owned land on the Grafton Gully edge of the AucklandDomain.
Club president Greame Scott told the Herald earlier that the club was one of many to exercise gender segregation, although women were able to play on its greens during social events such as its summer business-house competition.
"Women need their space, as do men," he said.
Winston Pond, a club member seeking change, said from Britain yesterday that the issue was among reasons he and a colleague had stepped down after several years of organising this summer's business event.
"What we've got is a facility the community and council have supported, and we are saying half the population can't be full members," he said.
The business house competition had introduced a good mix of people to bowls, whetting the appetite of some to continue in the sport.
"But what they would quickly find was that, sure, the guys could join but the women couldn't and that took a lot of guys out of the prospect of becoming members too," Mr Pond said.
"A number joined other clubs and it showed there was an interest there. But the [Auckland] club wasn't providing the follow-on service."
He said five members voted to let in women, not four as reported by Mr Scott, and 11 opposed the remit. Two abstained.
He hoped attitudes would change in time for another vote to turn the club into "a much livelier" and family-friendly place.
Mr Scott was unavailable for further comment.