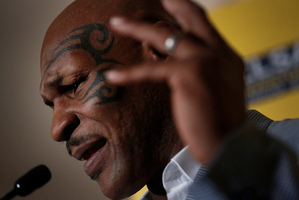 Rape Prevention Education executive director Kim McGregor has received a sexually threatening email from a Mike Tyson supporter due to her public opposition to the former boxer's visit to New Zealand.
The violently worded email in capital letters began by demanding that she "SHUD SHUT UR HOLE'' and ''LEAVE SIR MIKE TYSON ALONE''.
The email goes on to describe Tyson as a "HERO'' who has "SERVED TIME 4 SUMTHN HE DIDNT DO''.
The supporter then expresses their wish that Tyson would come to the country.
Then in graphic detail the supporter described the injuries they would like Tyson to perpetrate against Dr McGregor.
The email said once Tyson's visa was approved Dr McGregor could visit him and he could "TEAR U APART''.
It finished with: "LIFE IS 2 SHORT 2 WORRY BOUT A BLACK MAN FROM MERICA''.
An unnamed colleague of Dr McGregor who also spoke out against Tyson's visit also received a threatening Facebook message and had to alter her privacy settings.
Dr McGregor has referred the email to the police.
"I decided to that, not necessarily for concerns for myself, but I was thinking of my staff, if there were any sort of retaliations coming through to our agency, I thought I'd better pass it onto the police for their records,'' she said.
"It's disturbing that anyone could think things like that.''
Dr McGregor said the email was a prime example of the type of violent attitude towards females that Tyson's visit could further encourage.
Tyson has applied twice for a visa to come to New Zealand.
Associate Immigration Minister Kate Wilkinson last week revoked a visa granted to Tyson, a convicted rapist, when it was revealed the Life Education Trust, which would have been a charitable beneficiary of Tyson's appearance, did not back his visit.
Ms Wilkinson is now considering a second application for his visit, which has the support of broadcaster Willie Jackson and the Manukau Urban Maori Authority which he heads.
Green Party co-leader Metiria Turei has joined those who have been vocal in their opposition to Tyson's visit.
"Tyson has repeatedly denied the rape he was convicted of in 1992 and continued to reveal hateful, misogynistic views about women,'' she said.
Tyson was to visit New Zealand on November 15 for a 20-hour visit, including performing his one-man show at Auckland's Vector Arena.
But overseas reviews of the show said he painted his 18-year-old victim as a villain, made her one of his "targets of contempt'', questioned her credibility and told the audience he owed her no apology.
He also referred to women as "whores, bitches and tramps'', including his victim, and joked about domestic violence against his ex-wife.
Yesterday the Australian Government issued Tyson a visa, allowing him to go ahead with his Australian leg of his speaking tour.
- APNZ