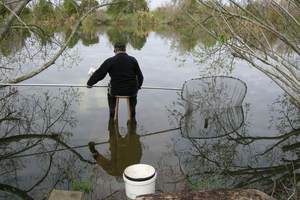 Already halfway through, the West Coast whitebait season has been sluggish as rain, flooded rivers and rough seas keep catches small and fishermen indoors.
Continually wet weather over the past month - with the odd fine day but the rivers still dirty - has put paid to most riverside fishing expeditions.
Department of Conservation Greymouth ranger Henk Stengs said few people were braving the wet and cold conditions.
"There were a few people out on Sunday, but I haven't heard any reports of any decent catches."
Martin Abel, at the Westport DOC office, was a bit more optimistic.
"It's just been whitebait season weather, interspersed with a few beautiful days."
There were reports of whitebait through to the Mokihinui River, and feedback from Karamea was about what they expected for this time of year.
In Hokitika, DOC ranger Ted Brennan said there was a report of a 44kg catch from the Hokitika River last week, but nothing exciting since then.
"Quite often people are hopeful around Labour Weekend, and from then on things do pick up."
Cornelia Vervoorn had similar news from Fox Glacier.
"People still had a good time, but I haven't heard of any record-breaking catches."
Most people were following regulations, though some whitebaiters coming over from Christchurch needed to be reminded of the differences between West Coast and east coast rules.
At Haast, Curly Tree Whitebait Company co-owner Moana Kerr said they were staying optimistic until the last day of the season, on November 14; "even if they're counting whitebait by the head instead of by the kilo".
The current buying price was $66 or $67 a kilogram before tax, or $50 in the hand.
Whitebaiters were prone to exaggerate, saying a bad season was "really bad" while a good season was simply "okay" because they did not want to advertise where the good spots were, she said.
Some were speculating on what caused the slow season, including snowfall, tides, atmospheric pressure and currents.
"This is what happens when there's no whitebait; you hear all these theories."
West Coast Whitebaiters' Association president Des McEnaney said his main concern for this season was safety after Canterbury whitebaiter Victor Edward Boraman was swept out to sea at the Rakaia River mouth on Saturday night. Since then he heard there was another death on the east coast.
"It's quite disappointing to see we've lost another one. It seems to be a trend, fishing in the river mouth and the surf. It's a dangerous and unnecessary practice," Mr McEnaney said.
- The Greymouth Star