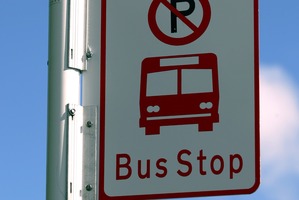 The owner of a dog that attacked and bit a man at a bus stop has appeared in Tauranga District Court.
Damien Olliver, owner of the American pitbull terrier-cross that harassed school children at a bus stop and bit a Bayline Coaches staff member, pleaded guilty to the charge laid against him yesterday.
He was charged with being the owner of dog which attacked a person causing serious injury.
Olliver was fined $500, ordered to pay court costs and $1500 in reparation.
Tauranga City Council's Mr Lincoln said the dog had already been put down because Olliver did not pay the pound fees.
The American pitbull terrier-cross named Haze attacked and bit a 61-year-old Bayline Coaches supervisor at the bus stop near the intersection of Windermere Drive and Poike Rd on August 20.
The supervisor was called to the scene by a bus driver over concerns that the dog was acting aggressively and harassing schoolchildren at the bus stop.
The supervisor was taken to Tauranga Hospital to have surgery after suffering a bite wound to his lower leg.
For more articles from this region, go to Bay of Plenty Times