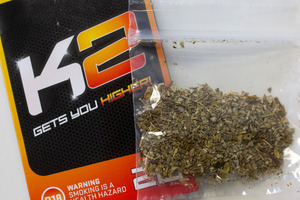 K2 is the most toxic and harmful of the synthetic cannabis products he has witnessed in patients, a Dunedin Hospital emergency department specialist says.
Dr Bruce Lambie said K2 - which is being tested by health authorities with an eye to banning it - had caused trouble in the department for the past three months.
"It's been quite a problem here."
K2, the worst of the synthetic cannabis products he had seen, caused hallucinations, agitation, seizures and "violent aggression".
About three weeks ago, an ED patient under its effects assaulted a security guard, Dr Lambie said. Police were called to that incident.
Dr Lambie said many young people trying K2 were upset and surprised by its disturbing effects.
Many had vowed to hospital staff never to try it again.
"They have no idea how toxic it is."
"People think because they can buy it it's harmless . . . the trouble is, I don't know what's in it."
Department staff tried to record blood samples to learn more about the K2's effects, and how long its effects lasted. However, it was "enough trouble" dealing with the rest of the department's workload, and staff did not always have time to take samples.
He could not say how many patients had presented having taken K2, but there were "quite a number".
The department's new observation unit, opened in August, had proved useful for the prolonged watch needed for patients.
All clinicians could do was support patients with fluids, keep them safe from harm, in some cases sedating them with Midazolam.
A spokesman for Associate Health Minister Peter Dunne said results of testing to determine if K2 would be banned would take up to another four weeks.