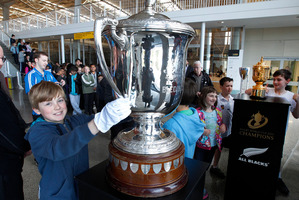 Rugby Union lets public see all three major cups for first time
Wellington schoolboy Cam Fitzgerald-Little was rewarded for his punctuality yesterday morning when he was given a hands-on look at the three major trophies the All Blacks have won during the past year.
The 11-year-old was the first person to arrive at the ASB Sports Centre in Kilbirnie to inspect the Webb Ellis Cup, Bledisloe Cup and the recently acquired Investec Rugby Championship trophy, which the New Zealand Rugby Union had put on public display as a trio for the first time.
Cam's early arrival meant he was given a pair of gloves and was asked to help put the Webb Ellis trophy, which Richie McCaw lifted after New Zealand beat France 8-7 in last year's World Cup final, on its display perch.
The aspiring rugby player, who turns out for Marist St Pat's during the winter, was given gloves because only those who have won the trophy are allowed to touch it with their bare hands.
The South Wellington Intermediate School pupil said he was awestruck when he first saw the pieces of hardware and couldn't get over how big the Bledisloe Cup was.
"Woah, the All Blacks have been touching those," he said. "I'm close. It's been around the world."
Cam, who watched the World Cup final last year and said McCaw was his favourite player, never doubted the All Blacks would win the tournament. "It's like, they're All Blacks. Come on," he smiled.
In case there were any concerns that the Webb Ellis Cup was a replica, New Zealand Rugby Union stakeholder and community relations manager Ian Long confirmed it was the genuine article.
"It certainly is. I can guarantee Richie had his hands on that one on October 23 last year," Long said.
- APNZ