Unclaimed windfall is talk of hospital but store staff hopeful mystery winner is a patient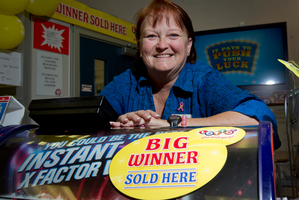 The question everyone is asking at Auckland City Hospital is: Who bought the $2 million Lotto ticket?
The most popular rumour is that a hospital staff member popped into Auckland Hospital Book and Post Shop on Saturday morning and bought the lucky ticket.
But the store's assistant manager, Sharon Neal, hopes it was a patient who has not yet realised they are $2 million richer from the first division prize.
"That would be nice," she said.
"But the truth is no one knows, we honestly don't. All we know is that no one's claimed it yet."
Mrs Neal said it was about time the shop struck it lucky. In the more than eight years it's been open and Mrs Neal has worked there, it had only sold a ticket that won second division and a scratchie worth $10,000.
"This is our biggest claim to fame so far."
As soon as people see the "Lotto Big Winner Sold Here" sticker the store now proudly displays on its counter, they ask staff who it was.
But they can't give them any answers - except that it's likely to be a hospital staff member, a patient or a visitor.
Mrs Neal is ready if the winner returns to check the ticket.
"If someone has the winning ticket, our till shuts down and we take them to the back room with the phone and let them know."
NZ Lotteries spokeswoman Karen Jones said roughly 3 per cent of prizes went unclaimed each year, though they were mostly smaller winnings.
As well as the $2 million first division Lotto ticket, there are two still-unclaimed Strike 4 tickets from this year which together total more than $357,500.
There are also five winning wheel tickets unclaimed, the prize values of which are unknown because the winner wins the opportunity to spin the Winning Wheel and win a prize between $100,000 and $1 million.
If a prize remains unclaimed after 12 months, the money is added to NZ Lotteries' prize reserve fund.
The fund - worth $45.7 million - is used for special prizes and promotional draws, and to top up jackpot amounts.
Unclaimed prizes
$2m First Division Lotto, bought at Auckland Hospital Book and Post. Must be claimed by 06/10/2013.
$180,475 Strike 4, bought at Coastlands Lotto, Paraparaumu. Must be claimed by 1/09/2013.
$177,058 Strike 4, bought at Rocky's Superette in Sandringham, Auckland. Must be claimed by 18/08/2013.