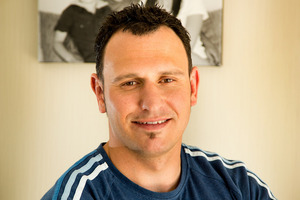 Constable Rowan Wynen spent five hours pulling survivors and bodies from the twisted steel and rubble of the collapsed Pyne Gould Corporation Building before he knew the fate of his own partner and 6-year-old son.
"Once I knew they were okay, I put them out of my mind again and carried on in a robot-like mode," he said yesterday after being recognised at a special earthquake ceremony in Christchurch for his bravery.
Mr Wynen was coming to the end of a routine shift on Tuesday, February 22 last year when the horror jolt at 12.51pm ripped the city apart.
He soon faced a race against the clock and continuing tremors to save people in the crippled PGC Building.
The 31-year-old and his colleague, Senior Constable Peter Hansen, were the first emergency service workers on the scene of the collapse.
"There was a lot of dust, paperwork flying everywhere, and 20 or 30 bewildered people standing outside."
Mr Wynen went to the rear of the pancaked building and helped office workers try to reach people on the first floor sticking their hands from the debris trying to get out.
"It was amazing. People were on their hands and knees crawling out. We carried them down," he said.
Two firefighters arrived and one joined Mr Wynen in trying to free a man whose arm was trapped under a large concrete slab. "He was in a lot of pain, yelling and screaming.
"We smashed windows of cars parked around the back and took their car-jacks and tried to hold the slab up," he said.
More officers arrived and Mr Wynen co-ordinated the rescue plan.
They had already recovered one body and decided to focus on recovering as many live people as possible.
He scrambled colleagues to find first aid kits, crowbars and hacksaws from a nearby hardware store, and bottled water. "We were constantly pulling people out."
He was at the site for 13 hours until he was relieved by colleagues.
Yesterday, he was one of 117 Canterbury police staff whose efforts on February 22 were recognised.
Police Commissioner Peter Marshall presented the first Canterbury Earthquake Citation ribbons to honour those whose "incredible efforts" saved lives. "The actions of these staff typified policing at its very best."
The red and black ribbon, created to recognise the efforts of police and other services in the response to the disaster, will eventually be given to 3600 emergency services staff from across New Zealand and Australia.
Mr Wynen was proud to receive the award. "It's something I'll treasure for the rest of my life,' he said.
"Ten years before [the quake] I swore on the Bible that I would protect life and property and that's pretty much why I was there that day."APNZ
- APNZ