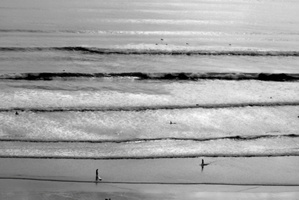 Police have named the man who died in a fire which engulfed his van parked near a popular Kaikoura surf spot - and have also ruled out foul play.
The body of British man Adam Toleman, 28, was found inside a badly burned van on Kiwa Rd, the access route to popular surfing spot Mangamaunu, known as 'Meatworks', 15km north of Kaikoura on Monday.
Police treated the fire scene initially as a homicide investigation but now say there are no suspicious circumstances.
But a post-mortem examination indicated that Mr Toleman, a citizen of the United Kingdom with New Zealand residency, may have died after an accidental fire.
His next of kin have been advised, but formal identification is expected to take some time, police say.
The site will be blessed this afternoon and the vehicle will then be removed.
The tight-knit community of Kaikoura has been in mourning over the death.
Local resident Juanita Edelmann, who lives in Kiwa Rd, said yesterday she was stunned by the death of a "nice guy, a surfer, a free spirit''.
She said Mr Toleman had been coming to the Kaikoura area "on and off'' for around five years, to enjoy the renowned Meatworks surf break, as well as the local skifields.
She feared the fire may have been caused by the use of candles inside the van, where Mr Toleman slept and lived.
"He'd been told to keep candles out of there,'' she told APNZ.
"I saw him on Sunday. He was heading out for a surf and it was great waves. He'd worked that night and surfed all the next day.
"He was really happy, off to the States next week to see his girlfriend. It's sad.''
Once local Maori lift a tapu and the van is removed by police, the surfing fraternity and the local marae are planning a a commemorative service.
A memorial could be set up to remember the man who was "one of us'', Ms Edelmann said.
- APNZ