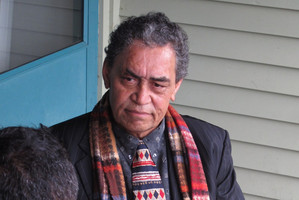 A national disability group says Northland hunger striker Sam Kuha - now in the 27th day of his protest - has "shone a light" on the daily struggle to survive faced by many disabled people.
Mr Kuha says he has not eaten since September 14, when he was refused a $40 food grant at Work and Income in Kaikohe because he would not see a budgeter.
The 59-year-old lost a leg and the use of one arm when he was run over 20 years ago.
He receives an invalid's benefit which he says leaves him with $18 a week once his regular bills, such as mortgage, power and rates, have been paid.
CCS Disability Action says Mr Kuha's protest highlights the growing inequalities and hardship facing disabled people. Regional manager Auriole Ruka, who has met Mr Kuha to lend her support, said his experience was far from isolated.
"He was advised to see a budget adviser when his most urgent need was food. What we really need is a commitment to looking at solutions that will make a meaningful difference in people's lives. Securing good outcomes for people is more than ticking boxes. It feels like we've lost sight of that when I hear stories like Sam's."
Ms Ruka said Mr Kuha was protesting at what he described as "dehumanising" and "pointless" bureaucratic process that led to him being refused a food grant, despite budgeters advising him he did not have enough income to meet his basic needs.
Disabled people were hugely over-represented in New Zealand's unemployment statistics, so poverty was a major issue for many. Welfare dependency was not a path they had chosen for themselves.
"Sam is taking a brave stand to highlight an issue replicated across many households in the region and particularly for people with a disability. For example, one of the people we support has $21.60 per week left over for basic necessities once all of her outgoings have been paid for. Her rent is due to go up by $10 in coming weeks. She doesn't drink or smoke or gamble, that's just for basics like food and clothing."
CCS staff often had to accompany clients to Work and Income to make sure they got their full entitlements.
For more articles from this region, go to Northern Advocate