'It's just a building,' says Bishop Brian Tamaki, who offered the venue free for the amateur boxing champs.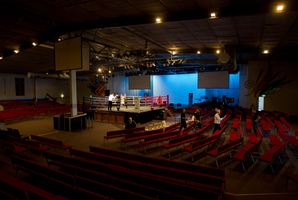 New Zealand's best amateur boxers are fighting for national titles this week at Destiny Church's Mt Wellington base - a venue Bishop Brian Tamaki understands may be seen as odd.
A number of the Tamaki family are boxing enthusiasts and the church made the offer of a free venue to the national body last year.
It's not the first time the church has been used in unconventional ways.
Body building champs have been held at the site and it has been used by Maori Television for the final of the karaoke show Homai Te Pakipaki.
Bishop Tamaki said his mother thought it odd that the nationals are being fought under his church's roof.
"She has trouble with violence but I think we just have to see it for what this is - it's just a building," he said. "It's suited, we've got the big screens and we've got the tiered seating. A lot of these kids that come here from smaller towns, for them it's like coming to Las Vegas. I heard one coach say, 'This is just like going to the Mandalay Bay."'
Bishop Tamaki's son-in-law Caine Warren, 35, runs the Supercity Boxing Gym across the road from the church and a mokopuna, Giovanni Tamaki-Rampling, 12, is competing at the event.
Boxing as a programme to reach out to young people is something the church will expand on when its new multimillion-dollar facility is built in South Auckland next year.
Bob Lyall, an executive member of Boxing New Zealand, said the use of the space was a godsend as not one regional association offered to host the event this year, mainly for cost reasons.
Last night's opening ceremony included rapper Young Sid and a walk through of the 20 teams attending.
"They do know how to put on a show. They do it every Sunday, it's very exciting. I've been involved in boxing for 40 years and we've never been in an arena like this.
"Most of the time we have it in some town hall that's 150 years old, this is an amazing step up."
The only stipulation was that the event was finished before Sunday.
Bishop Tamaki, whose church has bounced from a number of controversies, took a swing at the media when Mr Warren encouraged his father-in-law into a picture: "In the blue corner Bishop Brian," to which the Destiny founder quipped: "In the red corner [broadcaster] John Campbell."