Outgoing ambassador to NZ says disputed isles claimed under international law in 1885.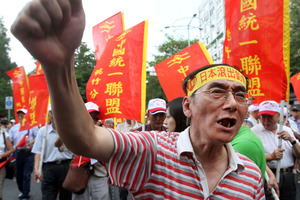 The outgoing Japanese ambassador, Hideto Mitamura, has said Japan acquired a group of disputed islands legitimately under international law 127 years ago.
Arguments of sovereignty over the islands - called the Senkaku by Japan and Diaoyu by China - have led to protests in China and Taiwan. Japanese police arrested Chinese protesters who landed on one of the islands in August.
Before ending his term this week and heading into retirement, the diplomat sought to respond to his Chinese counterpart, Xu Jianguo, who told the Herald that New Zealand should help to uphold the outcome of World War II, and return the islands to China.
Mr Mitamura said there was no issue of sovereignty because the islands were legitimately claimed by Japan in 1885 under international law and were formally incorporated into Japanese territory in 1895.
At that time, Japan had thoroughly surveyed the islands and found no person lived there and there was no trace of influence over it by China or any other country.
China's claim began in the 1970s after the discovery of potential oil reserves in the area. Taiwan also claims them. Mr Mitamura produced reference to Chinese atlases and letters from the 20th century suggesting there was an acceptance the islands were part of Japan.
China says its association goes back to 1403 in the Ming Dynasty.
Tensions around the islands have heightened since the Japanese Government bought the islands from a private owner, claiming it did so in the interests of stable and peaceful management.
The Government plans to keep the islands as they are and would not develop them, Mr Mitamura said.
New Zealand Foreign Minister Murray McCully has said New Zealand did not take sides over the disputed islands.
Shortly before visiting New Zealand last month, United States Defence Secretary Leon Panetta confirmed that the United States would honour its security alliance with Japan and go to its defence if it was attacked by another country.
Mr Mitamura said the message of Japan's Prime Minister, Yoshihiko Noda, to the United Nations recently was that rule of law was most important and that Japan would seek peaceful solutions based on international law.
Mr Mitamura said Japan's relationship with New Zealand was "really fabulous".
The countries this year celebrated 60 years of diplomatic relations.
Co-operation was increasing as shown by a joint Pacific education aid project and in working with New Zealand to build a new airport in Bamiyan, Afghanistan.