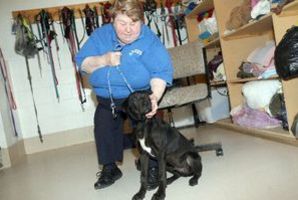 A 4-month-old puppy dumped in a recycling skip in Masterton is on the hunt for a new home.
The amicable pooch already has a name picked out - Skip.
A passerby found the mongrel pup in a skip between Domino's Pizza and Mobil about 3am on Sunday, and called police when he was unable to get the dog out.
Officers took the puppy back to the station and called Wairarapa SPCA, which is looking after the pup.
Wairarapa SPCA manager Val Ball said Skip was in good health and would be going for vet checks and vaccinations today. It would be desexed in a week's time.
Mrs Ball said someone may have dumped the puppy because it was making too much noise or a landlord found out a tenant was keeping a pet when they shouldn't.
She described the pup as amicable and relatively obedient, and it appeared someone had put some time into training it.
For more articles from this region, go to Wairarapa Times-Age