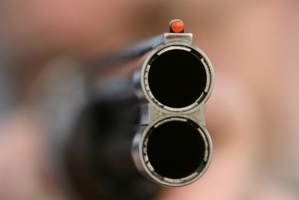 Being seen with wads of cash doesn't make two men guilty of an aggravated home invasion in Hutt Valley, but the layering of evidence does, the Crown says in summing up a home invasion trial.
Jeremy Gorinski, 34, and Dinesh Manoharan, 36, are alleged to have stolen between $50,000 and $80,000 from a Silverstream property on June 19 last year.
Yvonne Wiffen pleaded for her life when she was forced to open a safe during a "horrifying" home invasion in which she and her husband, Malcolm, both aged in their 60s, were bound and threatened with sawn-off shotguns.
Gorinski and Manoharan have each pleaded not guilty to once charge of aggravated robbery.
Summing up the case this morning Crown prosecutor Sally Carter told a jury at Wellington District Court there was no dispute that an aggravated robbery occurred.
But the issue was whether the accused were involved in it.
"When [evidence is] looked at together it is what compels you to think it was these two," she said.
The movements of the accused in the days following the robbery - and before their arrest at a Wainuiomata address on June 24 last year - placed the men together, she said.
One witness had identified Gorinski as being at a Palmerston North bar in the days after the robbery with a large wad of cash and a bag of coins.
When the two men were arrested after a police raid, various items stolen from the Wiffens' house were found, including a gold and rose trinket box.
Ms Carter said it was commonsense that the absence of forensic evidence did not mean someone was not present at the crime scene.
"The fact that someone's DNA was not at the scene, does not mean they were not there."
Shoe prints left at the scene matched Gorinski's shoes, and DNA found at the scene was 20 times more likely to have come from Manoharan than someone else, expert witnesses told the jury.
"It's another layering ... the links that pull together. It's just too much of a coincidence."
Manoharan's lawyer Christopher Stevenson said the Crown's case came down to assumptions and guilt by association.
The fact Manoharan was associated with Gorinski a couple of days after the robbery did not connect him to the crime, he said.
He was not associated with large sums of cash, and in fact only had $30 on him when he was arrested.
"It's clear in this case Manoharan has made some pretty foolish choices ... but it doesn't make him an aggravated robber. He is not on the scene until two days later ... and that in itself is quite significant.''
Mr Stevenson said Manoharan had none of the Wiffens' property on him when he was arrested.
"He had no money from the robbery because he was not one of the robbers.''
Mr Stevenson said the jury should reject any information about Manoharan's DNA being at the scene.
"Many New Zealanders share that DNA. This is right at the bottom end of any DNA evidence.''
Gorinski's lawyer Keith Jefferies said of paramount importance was the lack of evidence in the case.
There was no DNA left at the scene, nor was there any of Gorinski's DNA on the gun which was found.
The footprint evidence was flawed, Mr Jefferies said: "It's a poor sample. There is a mystery here that hasn't been solved.''
Neither of the accused had been seen at the house.
"You cannot, and must not, convict on speculation,'' he told the jury.
Gorinski was not perfect and Mr Jefferies accepted he had stolen property in his possession.
But just because he had property stolen from the Wiffens' house did not mean he had stolen it.
Similarly, just because Gorinski was hanging out with people who had a lot of money, did not mean he had stolen it.
"The evidence simply does not cut the mustard to prove beyond reasonable doubt.''
- APNZ