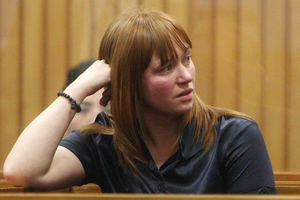 Kara Hurring - ex-partner of the man dubbed the runaway millionaire - says home detention is no "walk in the park'' and she is counting down the days until the sentence ends.
The 33-year-old was sentenced in August to nine months' home detention and agreed to pay $11,830 reparation after she was found guilty of 25 charges of theft, three charges of attempting to dishonestly use a document and two charges of money laundering.
Hurring's former partner, Leo Gao, was sentenced to four years and seven months' jail after he admitted stealing more than $6.7 million from Westpac, after the bank accidentally gave him $10 million instead of $100,000. Gao, who owned a BP service station in Rotorua, had applied for a $100,000 loan.
Hurring has spoken out about the sentence, saying the hardest part about home detention was the loss of freedom. She is unable to go to most areas of the quarter-acre property where she lives without raising the alarm.
"It's very strict.''
Ms Hurring said she had been fortunate in that the Department of Corrections had allowed her to drop her children off at daycare and school but she had to do it at a certain time each day and had to carry two documents - an absence form issued by Corrections and an order from the court.
"Each time I drop my children off at school or daycare I must have a form signed by them [school and daycare].''
She could not carry out basic parental duties like taking her child to sports practises.
"It's quite sad ... I'm really grateful that my mother does that for me.''
Hurring said she was very lucky to have a supportive family whom she could rely on to do food shopping and normal day-to-day errands.
"For many on home detention that don't have that kind of support, I can see how they would breach their conditions.
"For some it would be a breach out of necessity.''
Hurring, who would not reveal where she is serving her sentence, is allowed to work part-time but she has to give Corrections a few weeks' notice.
She had an emergency with her son and had to take him to the doctor recently and the authorities were "quite good about that''.
As for anyone who said home detention was easy, Hurring said it was not.
"It's not a walk in the park ... It's no freedom, which is exactly what the punishment is supposed to be. In my situation I'm very lucky to have my kids with me.''
Her children kept her occupied.
"Sitting around doing nothing is dangerous.
"I do crafts, reading, study and housework. The house is super clean.''
Hurring said the fact that her children kept her busy was a "blessing in disguise''.
"I don't have a lot of time to be bored.''
Some may think people on home detention watch television all day but Hurring said she had watched only one movie since starting the sentence two months ago as she needed other things to motivate her.
"It is important to get rid of energy so exercise is vital for that. Sitting around doing nothing all the time is dangerous, especially for someone on home detention.''
It would be boredom that could temp some offenders to breach their home detention conditions.
But Hurring said she had never been tempted to leave the property and as a mum she was no longer attracted to going out much at night.
"I just want to carry out my sentence and get it finished so I can rebuild my life and my future for my children.
"I was mentally prepared before sentencing that I could go to prison so I am always fully aware that a breach on my current sentence could still send me there.''
The anklet on her leg always acted as a reminder to her.
Hurring said she had had a bit of practise before home detention was imposed as she was already subject to bail conditions.
Asked whether she would prefer jail or home detention, Hurring said she had no idea what prison was like "but I'm very happy to be at home''.
She still has seven months to serve and is counting down the days.
For more articles from this region, go to Rotorua Daily Post