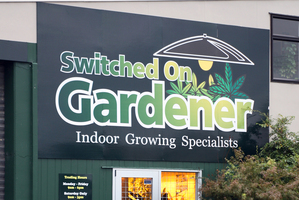 Switched on Gardener staff sold a full hydroponic set-up to undercover cops and discussed how to grow marijuana, a court has been told.
Two undercover officers who wore wires and went into Switched on Gardener shops in Christchurch and Tauranga gave in Auckland District Court today where Michael Maurice Quinlan - the owner of Switched on Gardener - and four of his colleagues are on trial.
The court is closed to the public to protect the identities of the undercover police officers.
Quinlan is alleged to have been the head of the operation that the Crown describes as a "one-stop shop" for cannabis growing equipment.
His two companies, Stoneware 91 Ltd and Hydroponics Wholesalers, together with general manager Peter John Bennett, business development manager Ricky Cochrane, distribution manager Andrew Barry Mai and the South Island manager Paul Kenneth Barlow are accused of belonging to an organised criminal group and supplying equipment used to grow cannabis.
An undercover officer known only as "Ronnie" visited the Christchurch store in October 2009 where she bought a hydroponics hobby kit for $335 that included plant containers and nutrients.
In the recorded conversation played to the court, she asked Barlow if he could supply the plants. Barlow responded by saying that he was asked daily but couldn't do it.
"If I did that, my ass would be grass," he responded.
Barlow has already pleaded guilty to supplying equipment for the cultivation of cannabis to the officer.
Ronnie also visited the Tauranga Switched on Gardener shop where she spoke to an unknown man in November, 2011. That conversation was also played to the court.
The man gave her advice about getting rid of odours and how much light to subject indoor plants to.
Ronnie was also given detailed information about when to harvest and was sold a book called Indoor Marijuana Horticulture.
The court also heard from undercover police officer "Leah" who visited the Christchurch Switched on Gardener shop in June, 2008.
She was also meant to wear a wire but the device broke and so she made notes on her visit about 30 minutes after leaving the shop on Tuam St.
"Leah" told the court that she spoke to a man called Paul and asked him about growing plants in a wardrobe.
She also received advice about getting rid of the smell of the plants and the level of lighting.
"He said anonymity was important to both him and his customers because he didn't want to implicate him or the store," Leah told the court.
She said Paul also got his customers to pick up their large purchases from around the back of the shop where there was more privacy.
Under cross-examination from Barlow's lawyer Tim Fournier, Leah confirmed that her record of the conversation was not "verbatim".
The trial, before a jury of eight women and four men, is in its second week and is due to run for a further seven weeks.