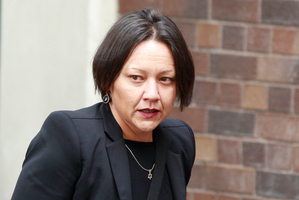 A criminal defence lawyer charged with smuggling an iPhone and a packet of cigarettes to a high-profile rapist and murderer has a new lawyer, after her previous one was struck-off.
Davina Valerie Murray, a Maori Party candidate in last year's general election, is facing two charges relating to her in-prison dealings with Liam James Reid.
She has pleaded not guilty to a charge of smuggling goods into a prison, and a charge of communicating with a prisoner in a manner that could cause him harm.
A date had been set for a defended hearing today at the North Shore District Court but the hearing was adjourned because her new lawyer, Charl Hirschfeld, had been instructed only last night.
Murray had previously been represented by embattled lawyer Barry Hart who has since been struck off by the Lawyer's and Conveyances Disciplinary Tribunal after three misconduct charges were proven.
The 38-year-old is alleged to have visited Reid in prison 80 times in the nine months before she was arrested.
Reid is serving a 23-year sentence for raping and killing deaf woman Emma Agnew in Christchurch in 2007, and the rape, attempted murder and robbery of a 21-year-old student in Dunedin nine days later.
Murray's lawyer Charl Hirschfeld said the case should be heard at the Auckland District Court because the charges stem from alleged offending at Mt Eden Prison. Charges must be heard at the nearest court to the alleged offending, according to the Summary Proceedings Act.
The matter has also been shifted to the Auckland District Court because one witness is overseas and must give evidence by audio-visual link. The North Shore District Court does not have the ability to do that.
A date for a two day defended hearing has been set down in the Auckland District Court in March next year.
Murray has previously vowed to prove Reid's innocence - saying the situation is "a lot bigger" than just the charges against her.
Murray was arrested and charged with smuggling an iPhone, cigarettes and a lighter to Reid while he was at Mt Eden Prison in October, last year.
She has previously told the Herald that she had been working on Reid's murder appeal for the past two years.
Police allege Reid was searched before the visit in October and had no contraband on him. He was searched again after his meeting with Murray and the phone and cigarettes were found.
Murray denies giving the items to Reid.
Reid's conviction for receiving the material has been quashed. His lawyer Howard Lawry told the Herald in July that Reid was sentenced to 11 days in solitary confinement and 43 days loss of privileges after the initial hearing.
But the conviction was quashed by Justice Stephen Kos because Reid did not have access to a lawyer at the time.
"This is now accepted as having being unlawful and therefore the penalties imposed were also unlawful."