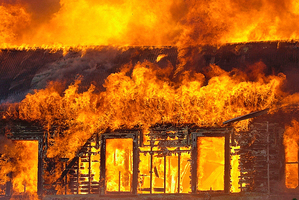 Fears of an early-summer high rural fire danger have been sparked by winds and a series of weekend blazes, including one which kept firefighters busy for more than eight hours and closed a section of the Napier-Hastings highway.
The major fire was at the Bio Rich Awatoto organic composting site, from which dense smoke fanned by a strong westerly billowed through the neighbouring Ravensdown fertiliser plant, and across State Highway 2 and out toward Cape Kidnappers late on Saturday afternoon.
Smoke billowing from numerous areas of the pile had been causing a hazard on the highway for more than 20 minutes before the Fire Service was called at 5.16pm, and with visibility down to as little as five metres police closed the section soon afterwards.
It was closed for more an hour, while Waitangi Rd remained closed several hours after nightfall.
Fire Service Napier senior station officer Mike Peachey said, ultimately , 11 units from Napier and Hastings, and volunteers from the Bay View and Haumoana brigades, were involved, most at the scene for at least three hours and the last not leaving till after 2am yesterday.
It included six appliances, among them the Bronto snorkel unit, four tankers, and a command unit, with the battle taken from the sides and above, while the site operators also used an excavator to remove heated bark.
Some of the 30 firefighters used breathing apparatus, and most used dust masks.
Water was drawn from a bore and hydrants at the Ravensdown plant, and crews were supported by Salvation Army volunteers providing meals and refreshments.
There was no threat to structures, apart from embers driven toward the Ravensdown plant from a fire which burned mainly on the surface of the pile, rather than the deep-seated, combustion nature common to such fires in the past.
But it was the first Mr Peachey could recall at the Bio Rich site, although several years ago firefighters in Napier were regularly called to a similar but unrelated operation in the Pandora industrial district.
Bio Rich began establishing Awatoto as one of its two sites in 2005, using bark, and fishery and food processing waste in an organic composting process now producing around 20,000 cubic metres a year.
Founder and owner Mike Glazebrook was "a bit mystified" about a possible cause, there having been no sign of fire when a staff member left the 10ha site about 2pm on Saturday.
There hadn't been any sign of hot bark, with smoke sometimes evident for days or even weeks, and he said: "Something must have caused the outside to catch fire."
Professional and rural fire staff are asking Hawke's Bay people to be cautious when lighting fires in current windy and warm weather conditions.
Firefighters were busy dealing with a number of grass fires around the region on Saturday, including one which burnt its way up an area of rural land near Puketapu.
Napier fire station officer Bruce Botherway said two fire trucks, as well as one each from volunteer stations Rissington and Heretaunga, helped bring the fire under control after it was reported about 10.20am on Saturday.
"When we got there the fire was about 100m by 100m and heading up a bit of hill country. We were there for about an hour and a half. No one was hurt ... just a water tank that was damaged."
Deputy principal rural fire officer Gordon Foster, who also attended the Puketapu callout, said a spark from a wood burner may have started the fire.
"People need to be aware that the wind is drying out grass land and you need to be sensible about lighting fires in windy conditions."
The region was in an open fire season which meant people did not need a permit to light a fire, unless the fire would burn before sunrise or after sunset. People must supervise their fire until it was fully extinguished.
The open fire season rules said people were not allowed to light fires when it was windy, or within 5m of a structure, including trees and fences.