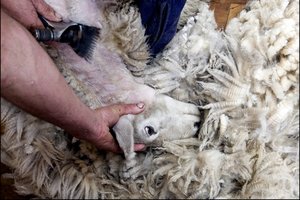 West Australian shearer Damien Boyle has won the New Zealand Merino finewool shearing championship for a third year in a row.
In Alexandra last night he beat runner-up Chris Vickers of Palmerston by almost seven points, with seven points back to third placegetter Tony Coster of Rakaia.
Charlie O'Neill, who was first to finish, had to settle for fifth place overall.
World woolhandling champion Joel Henare of Gisborne won his first New Zealand Merino Championships open title after finishing second twice previously.
Cushla Abraham of Masterton was runner-up in her first open-class competition.
The senior shearing title was won by Brett Roberts, of Mataura, the senior woolhandling final was won by Kodi Hawkins, of Masterton,, and the junior woolhandling title was won by Raylene Johnston, of Milton.
Chris Vickers becomes the third member of the New Zealand shearing team for a transtasman test later this month in Warrnambool, Victoria.
The other members are Angus Moore of Ward and John Kirkpatrick of Napier.
The woolhandling team is Sheree Alabaster of Taihape and Rocky Hape-Taite of Dannevirke.
Results of the 51st New Zealand Merino shearing and woolhandling Championships at Alexandra on Friday and Saturday:
Shearing:
International (5 sheep): New Zealand 342.279pts (Nathan Stratford 12min 4.69sec, 102.435pts; Tony Coster 12min 21.11sec, 109.456pts; Colin O'Neill 10min 11.75sec, 130.388pts) beat Australia 358.437pts (Damian Boyle 10min 18.45sec, 97..123pts; Todd Wegner 14min 25sec, 124.65pts; Brendon Boyle 12min 21.27sec, 136.664pts).
Open final (12 sheep): Damian Boyle (Broomehill, W.A.)24min 31.36sec, 131.318pts, 1; Chris Vickers (Palmerston) 25min 53.34sec, 138.167pts, 2; Tony Coster (Rakaia) 25min 34.19sec, 145.96pts, 3; Mana Te Whata (Mossburn) 24min 45.22sec, 148.428pts, 4; Charlie O'Neill (Alexandra) 24min 26.05sec, 150.053pts, 5; Nathan Stratford (Invercargill) 25min 32.14sec, 152.274pts, 6.
Senior final (5 sheep): Brett Roberts (Mataura) 18min 1sec, 119.675pts, 1; Tami Karauria (Gisborne) 19min 43sec, 138.35pts, 2; Sonny Kennedy (Winton) 23min 12sec, 145pts 3; Ethan Pankhurst (Masterton) 23min 34sec, 154.7pts, 4; David Gordon (Masterton) 18min 17sec, 158.45pts, 5; Linton Palmer (Dipton) 25min 45sec, 182.45pts, 6
Woolhandling:
Open final: Joel Henare (Gisborne) 290.482pts, 1; Cushla Abraham (Masterton) 322.674pts, 2; Tina Rimene (Masterton) 332.636pts, 3; Sharnie Graham (Masterton) 380.692pts, 4.
Senior final: Kodi Hawkins (Martinborough) 250.194pts, 1, Amber Stringer (Ranfurly) 263.28pts, 2; Stevie Mason Smallman (Taihape) 296.1pts, 3; Kelly Luke (Wairoa) 332.624pts, 4.
Junior final: Raylene Johnstone (Hastings) 244.224pts, 1; Shinnae Flutey (Masterton) 315.63pts, 2; Kaipiri Hiko-Reha (Waimana, BOP) 326.564pts, 3; Michelle Page (Waimate) 437.53pts, 4
- APNZ