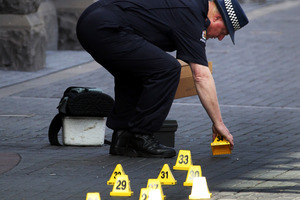 A man could lose the sight in one eye after being slashed from the temple to the jaw in a random attack.
The 22-year-old was enjoying a night out in Auckland with friends when they were attacked by four men just before midnight on Friday. He left a trail of blood from Myers Park to Aotea Square as he tried to flee with a friend.
Another man, a 21-year-old who suffered a serious stab wound to his chest, was an associate of four men who were charged on Saturday with wounding with intent to cause grievous bodily harm.
Witness Antonio Broughton saw one of the men with facial injuries as he was walking back to his car in Greys Ave.
"He was walking towards me yelling and screaming and I kind of didn't pay any attention because I thought he was just drunk. But it was only when I got closer and saw his whole front was covered in blood. I thought the T-shirt had writing on it but then I realised it was blood."
Detective Sergeant Scott Hunter said the groups did not know each other.
"It's just wrong place at the wrong time," he said.
"We don't believe there will be any retribution or reprisals in regards to this.
"However, we obviously need to find out how this incident started or if there is a common catalyst."
He said hundreds of people could have seen the attack and encouraged witnesses to come forward.
A team of 15 police officers were last night working on the case. They had yet to interview either of the stabbed men.
The 22-year-old man with facial injuries, described as being of Asian appearance, was awaiting surgery in Middlemore Hospital to fix sliced nerves in his face and a fractured eye socket.
Renowned plastic surgeon Professor Swee Tan, based at Hutt Hospital, said the man's facial movements and sight could be affected long-term. "If the fracture is unstable we usually use titanium plates and screws to hold it together."
The four charged men are due to appear in the Auckland District Court tomorrow.
Anyone with information should call Auckland CIB on 09 302 6400 or Crimestoppers on 0800 555 111.