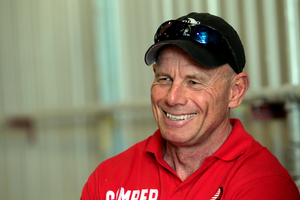 Ken and Adrienne Day are the last of the honest people. That's what Emirates Team NZ managing director Grant Dalton told them, after the couple returned $1500 in cash to one of his team members.
Ken, 59, and his wife Adrienne, 56, were wandering around the boat show at Auckland's Viaduct last weekend when they found a pouch filled with $100 and $50 notes.
They checked for identification of the owner but could find only an ASB receipt with credit card details.
They immediately went to the nearest ASB branch where a teller checked account details and tracked the owner, who asked not to be named but who was with Team NZ. He had only just withdrawn the cash.
Ken Day said the owner was completely shocked. "He said, 'Oh my God, are you joking'?"
As a thank you, he gave the couple a tour of the Team NZ headquarters, including the America's Cup yacht.
"Grant Dalton answered the door and said, 'you are the only two honest people left in Auckland, I believe'.
"He showed us around and we stood on the boat. Then at the end, he said, 'well that's the $1500 tour'," Ken said.
Auckland University associate professor of psychology Ian Lambie said people were more likely to return large sums. "If the amount is significant they might think, will I hand it in? But if it's trivial, they might think it is not worth handing in."
Lost wallet 'bait' brings mixed results
According to Grant Dalton - at least in jest - there are few honest people left in Auckland.
The Herald on Sunday decided to test his claim. We put Aucklanders to the test by "dropping" three wallets in Auckland CBD and Ponsonby.
Each contained a meagre $20 in cash, some shopping receipts and "return to owner" details.
In downtown Elliot St, 25-year-old Charlie Fryer was on his way to lunch with friends when he found a wallet. He phoned to offer its return within seconds.
"I thought some poor bugger had left his wallet behind and it has happened to me before, so I thought I would return the favour," Fryer said.
Dozens of people walked past one of our wallets in Aotea Square, pointing it out to friends but failing to pick it up.
Finally, after 20 minutes, a skateboarder picked it up and continued skateboarding with two friends. But he either dropped the wallet or ditched it because Frenchman Ange Lukebadio later phoned to say he had found the wallet and money.
Lukebadio, 24, was waiting for the bus with his girlfriend when they spotted it on a bench in Aotea Square.
No one called regarding a third wallet, dropped on Ponsonby Rd. So there may be a grain of truth in Dalton's claim: of the three wallets, only one was returned by an Aucklander. Another was returned by a French tourist, and the third was, presumably, pocketed.