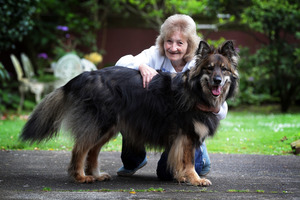 He was a little black and white ball of love. And when young Jean Benfell's beloved fox terrier Jamie ran off after a salesman left the gate open 30 years ago, Benfell was distraught.
"It's just devastating when you love your animal like that and you don't know if they are being cared for or if they are injured."
Jamie was indeed injured - he had suffered a broken leg after being hit by a car. But the SPCA cared for him until owner and dog were finally reunited five days later.
Jamie is long gone, but Benfell was so grateful for what the SPCA did, she's given the Auckland branch three decades of volunteer service.
"You never forget something like that."
After starting as a weekend volunteer, she established the "dog squad" - a team of bandanna-wearing, collection-bucket-toting dogs that she estimates has raised more than $100,000 in the past two decades.
Benfell is one of 1000 SPCA volunteers to be awarded gold medallions honouring the Queen's 60th jubilee. She will collect hers at a ceremony at Government House in Wellington, but other Aucklanders will receive theirs at the annual Blessing of the Animals service next Sunday.
SPCA Auckland executive director Bob Kerridge said the organisation could not function without its 800 volunteers and 400 foster families.
"They are the unsung heroes of the SPCA."