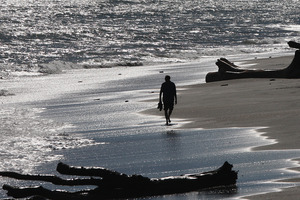 The entrails of slaughtered farm animals are being dumped in a stream that flows into Castlecliff Beach - and Wanganui officials are powerless to stop it happening.
Ann-Marie Houng Lee said she first noticed the dumping of offal in the stream at the beginning of 2011, and it had continued to occur regularly.
But in the past few months, the problem had escalated, she said.
The stream flows parallel to the beach from the western end of Seafront Rd, then across the foreshore and into the sea.
She said children paddled in it throughout summer.
Lee lives in Castlecliff and routinely walks her dog along the beach and through the dunes.
She has also discovered bags of household rubbish, including "nappies and all kinds of other unmentionables", dumped among the dunes, and on two occasions, found a possible culprit, as the refuse included addressed letters.
But Lee said she was told by the council that no action could be taken unless the addressee admitted to dumping the waste.
Wanganui District Council customer services manager Melanie Heron said the area was regularly monitored by the council's litter and environmental health teams.
She said on September 27, council officers found the carcass of a slaughtered sheep near the stream and a contractor had been asked to remove and bury it.
"This is our usual response," Ms Heron said.
If the council had sufficient evidence as to who was responsible, they could could issue a $100 fine or prosecute, depending on the severity of the offence, she said.
Lee said dirty nappies were often left on the beach and by the surf club, too.
She said the council did "an awesome job" of picking up the rubbish once they were informed that it had been dumped on the public reserve.
Castlecliff Coast Care co-ordinator Graham Pearson said the fact some people chose to use Castlecliff Domain as a dumping ground was disheartening.
They were significantly outnumbered, however, by those who enjoyed the beach and looked after it.
Pearson had found car parts, tyres and general rubbish strewn across the area, but he said offal was the most offensive find because of its smell.
It also attracted dogs and they dragged it around, he said.
There was no need for would-be litterers to act irresponsibly; they simply needed to dispose of their waste appropriately, Pearson said.
For more articles from this region, go to Wanganui Chronicle