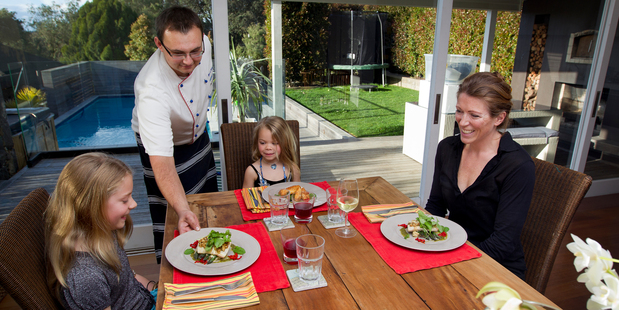 Time-poor professionals and busy parents are turning to personal chefs for restaurant-quality family meals.
Auckland chef Andrei Kainer has set up Rent a Private Chef, catering up to five meals a week for families and busy workers who don't have the time or motivation to make dinner.
The 25-year-old, who has cooked for 10 years in Europe, America and Australia, saw a gap in the market for personal chefs.
The home chef is established in Australia and the United States, where it is a $1.2 billion industry.
Kainer said: "Working professionals don't have time. They said they came to me because they finish work at 6pm, by the time they get home with traffic it's 7pm, then they start cooking and sometimes they only start eating at 9.30 at night."
The Kainer option is a smart cooked meal which takes only 15 minutes to heat.
The Austrian-born chef said one of his clients had lost the motivation to cook varied, healthy, tasty meals every night for her family of five, while another was a mother-of-two who had returned to the workforce.
Kainer, who began his apprenticeship at 15, charges $225 for two people plus groceries, which are never more than $130 per week at wholesale prices. A family of five pay $375 plus ingredients.
He has already signed up five families and couples, cooks five nights' worth of meals in his professional kitchen and delivers the vacuum-sealed food every Monday with heating instructions.
The service begins with a one-hour consultation to discuss diet preferences, food likes and dislikes and any medical issues before he creates a sample menu which changes weekly.
"The very first time they order with me I come to their house and heat it and plate it with them and show them how to do it."
Meals include five mains ranging from a rack of lamb to poached salmon, five sides including braised vegetables or mashed potatoes, three salads, two soups and sauces.
"Every family is different. Some love curries, they want curries every day, some just want French-style cooking. It really depends."
He set up the business last October, starting with dinner parties.
"It's going really well. It's really huge in the [United] States - they have thousands of personal chefs ... It's got bigger and bigger in Australia with a trend for online ordering. But it's definitely coming here."
For an extra fee he cooks in the family home.
Hamilton Budgeting Advisory Trust manager Clare Matira said although the average New Zealander probably couldn't afford a personal chef, it made sense for families and professionals with more disposable income and less time.
Ms Matira said often people didn't realise what they spent on food, with many households putting up to $500 a week into their grocery bill.
"And quite a lot of people get takeaways three or four times a week."
Having a healthy meal at a reasonable hour was preferable, she said.
"But they really should do their maths. Work out what they're currently spending, do their own analysis ... Are they prepared to put their money in that area?"

Chef as good as a holiday
Auckland mother Robin Bell hired a personal chef for the school holidays so she could have a break too.
She said that by removing the chore of cooking she could enjoy the holidays with her three children, aged 8, 5, and 11 months.
"No matter what you do at the end of the day, you have to go home and cook a meal for them or spend a lot of money out in a restaurant, and then the kids never eat half of what's put in front of them. So I just decided to give myself a vacation above anyone else in the household, which was a vacation from cooking."
By hiring a chef, she said, the family could still have delicious, healthy, child-friendly food, but in the comfort of their own home.
Mrs Bell, a stay-at-home mum, said she preferred serving food at home over going to a restaurant or ordering takeaways, but she lacked the time and motivation to create elaborate meals.
"I cook every night for my kids and my husband, but it's a chore, it's not a passion. I'm one of those people who gets absolutely no pleasure from it."
Mrs Bell said hiring a chef was affordable, considering her weekly grocery bill was about $400.
"It doesn't seem like much more than that. It (compares to) my food bill for the week and a dinner out."
Though her friends might consider her a "princess" if she keeps the personal chef when the school holidays end, there is a chance the adults may continue with the service for themselves while the kids go back to mum's home cooking.