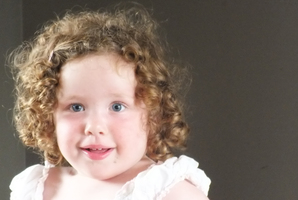 Arna Hopkins still has a long road ahead to recovery, but her family are celebrating the fact the 3-year-old is finally able to breathe on her own.
They have released the first photo of the toddler, four weeks after she suffered severe burns to her body and face while lighting a candle in memory of her dead twin sister.
Wrapped in bandages, she is seen sitting upright in father Regan's arms, which her uncle Kane Hopkins told the Herald was a milestone.
"That is really a big deal," he said last night. "She sat on his knee and had an iceblock and fed herself for the first time. The fact that she is even up out of her bed is remarkable."
Arna is still in intensive care at Middlemore Hospital in South Auckland but has been moved out of her isolation room, which means more room for her family to gather.
After undergoing major skin graft surgery last week, she was taken off her ventilator for the first time and yesterday had been able to breathe on her own for 24 hours.
The family are hoping her throat will recover now the tubes are out and she will start talking over the next few days, Kane Hopkins said.
"The people around Arna, the medical professionals, are just saintly. They are really the unseen and unsung heroes and it's not until you get into a situation like this that you realise that."
Arna's "baby steps" were just in time for brother Seb's fifth birthday. The generosity of the public had helped the family to gather in Auckland for the occasion, he said.
Arna set fire to her clothes after pulling a box of matches out of the pantry at her home at Martinborough in Wairarapa to light a candle for Mila, her sister who had Down Syndrome and died of an infection in August.
Public appeal
A "Support for Arna" account has been set up at the National Bank.
Donations can be deposited into 06-0689-0298651-00.