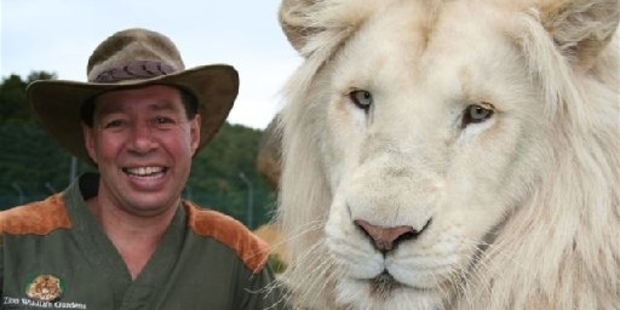 Stories making headlines across New Zealand at noon include a Facebook row that ended with a woman sinking her teeth into another woman's breast, fears of an international Lionman backlash reaching John Key and sorry Wellington but reports about your sunshine hours are apparently exaggerated.
Greymouth teen Toni-Leah Bower and Christchurch woman Samantha Massick traded insults on Facebook for two years before fate found them in the same place and Ms Bower biting Ms Massick on the left breast.
Fears of an international backlash if the government shut down the Lion Man's Zion Wildlife Gardens in Whangarei, despite six lion and tiger attacks including a fatal one, apparently went all the way to the ninth floor of the Beehive.
A claim in the Dominion Post that Wellington was the sunniest city in New Zealand last month is apparently wrong. Meanwhile Kerikeri has recorded its lowest September temperature for more than 30 years.
Kris Charles Clark elbowed his 6 year old stepson in the head giving him a black eye because the child was focused on something else and had a tantrum about Clark buckling him into a car seat.
Here's everything you need to know one year on from the grounding of the container ship Rena in Bay of Plenty.
Tight fisted dog owners who didn't spend the extra money to buy proper puppy food are ending up with deformed pets. Emaciated dogs are a constant problem for Wanganui.

Meanwhile Rotorua SPCA volunteers are being acknowledged for their work.
Does your dog look like Hairy Maclary from Donaldsons Dairy?
Jamie Rosemergy got his chest waxed in public.
They may have abandoned the Gisborne to Napier rail line, but this one in Hawke's Bay is thriving.
Noel Flyger says he would be dead if he didn't go to the gym. Meanwhile Karma Cripps threw off the shackles of crime and prison by discovering art.
Hawke's Bay police have warned they will not tolerate drunken racegoers anymore.
Donna Todd's child had traces of methamphetamine in a hair sample, from a drug habit that she blackmailed a man to maintain.
A person walking on the Whitiora Bridge in Hamilton heard a voice talking loudly behind him and turned to see a man walking and talking to himself and pulling at his hair. The walker then heard a loud splash and saw the man floating away in the middle of the river.
Meanwhile there's been an overall reduction in crime across the Waikato.
Twelve paddlers from Kaihoe o Ngati Rehia waka ama club aim to cover the 270km to Whangarei in two six-seater outrigger canoes in four days.
Parents of children with talipes or "club foot" apparently have nothing to fear.
A Western Bay ambulance officer has invented a device that will apparently help prevent broken hips.
Meanwhile on the East Coast, logging truck drivers have been "nailed" in an undercover police sting.
Education Minister Hekia Parata can count on her name being pronounced correctly at Lakeview School in Masterton. But students are apparently happy to help teachers who struggle to pronounce Maori names.
Meanwhile months of bickering and dissent at Aratoi Art and History museum may be over.
Women needed to take extra precautions if walking alone in Masterton at the moment.
Murderer and rapist Liam Reid is not allowed to appeal his conviction.
Apparently there's a housing boom in Mid Canterbury. And Oamaru Airport may be used for passenger flights again.
Rain, sleet and snow are expected to hit Fiordland, Southland and southern parts of coastal Otago this afternoon.
Here's one from the 'miraculous escape following spectacular crash' files.
The death of Michael Denton in Indonesia has been linked to his consumption of arak.
Southland Mayor Frana Cardno and two helpers were transformed into forest gnomes yesterday.
Australians have been given permission to explore one of the most famous goldmining sites on the West Coast.
Trending topics on Twitter in NZ at noon are still #broken. Top trending topics in India at noon were: #SLvsPak, #ActivClingOn, #ThingsIWishWereQuikr, #wcmum, #PakvsSL, #WordPress, #wt20, Afridi, Sri Lanka and #nowplaying.