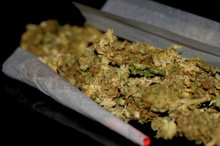 A New Zealander will face criminal charges and a possible lengthy jail sentence after being caught with illegal drugs in the Philippines.
Salah Raad Abdulrazzak, 27, was caught in possession of marijuana at Manila's Ninoy Aquino International Airport on Monday, the Philippine Star reported last night.
Jose Gutierrez Jr, of the Philippine Drug Enforcement Agency, said Mr Abdulrazzak had hidden three marijuana sticks or joints inside a regular packet of cigarettes, which was placed inside his shorts' pocket.
Mr Abdulrazzak, who reportedly lives in Perth, Australia, was a departing passenger bound for Caticlan, Aklan when he was arrested after mandatory frisking at a final x-ray point.
Charges for possession of dangerous drugs under the Philippine's Comprehensive Dangerous Drugs Act 2002 are now being prepared for filing in court against Mr Abdulrazzak.
According to the act, charges for possession of less than 500g of marijuana carry a penalty of between 12 to 20 years jail and a fine between 300,000 and 400,000 pesos (NZ$8800 and $11,750).
By Nicholas Jones

Email

Nicholas