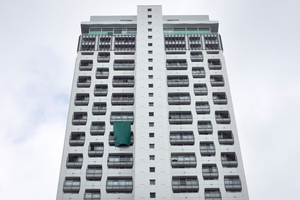 A Mexican engineer lost his wife and 3-month-old daughter in a 26-storey fall soon after arriving in New Zealand to undertake a seismic research project.
He had briefly travelled to Wairarapa to work on the initial stages of his project when his wife and daughter fell to their deaths in Auckland on Wednesday night.
He is now "in shock" and his priority is to take their bodies home to Mexico.
Mexico's ambassador to New Zealand, Leonora Rueda, said the embassy and the Mexican Government were giving all the support they could to the man.
"First of all, we're very sorry about the case. Our duty is to try to assist the husband in everything we can - moral support and whatever necessary.
"I personally talked to him, hoping for him to feel more comfortable in this difficult moment. He was in shock. Fortunately, the New Zealand police, detectives and the people in Auckland have shown very good support."
The man had arrived only recently, and was working with the University of Auckland on his research. He was living in Auckland but had travelled to Wairarapa for his project, while his wife and daughter stayed behind.
They died after falling from a balcony area at the Auckland Harbour Oaks Hotel and Apartments in Gore St in the CBD.
The man has expressed his wish to take their ashes back to Mexico, before returning to New Zealand to complete his work.
Police would not be drawn on exactly how and why the pair died. But a spokeswoman said they were not seeking anyone else in relation to the deaths.
The deaths had been referred to the Coroner.
A woman fitting the 36-year-old's description was seen in the hotel's lobby about half an hour before the deaths. A guest told the Herald the woman was talking on a cellphone and was "crazy, definitely distressed".
At that stage the baby was wrapped in a blanket. She was not crying as the pair sat in the lobby.
Police were called to the hotel just after 5.22pm.
It is understood the woman and baby fell from the room they had been staying in - believed to be on the 26th floor of the 37 storey building. They landed near the pool and the area remained cordoned off for most of yesterday as police removed broken decking and other items during their scene examination.
Australian tourist Peter McMahon was exercising with his 12-year-old son in the gym on the ground floor overlooking the pool when he heard a loud bang. He thought it sounded like a gunshot.
"There was nothing we could do because she was obviously dead."
- additional reporting APNZ