100 offenders caught over limit along winding and narrow East Coast roads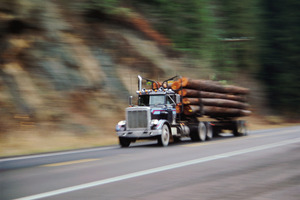 A two-day traffic blitz has caught 100 heavy vehicles speeding - and 98 of them were logging trucks.
The operation targeting East Coast drivers caught a total of 111 speedsters on State Highway 35 north of Gisborne through Tolaga and Tokomaru bays.
Senior Sergeant Phil Critchley said "alarmingly" some trucks were caught speeding multiple times, and one was caught five times over the two-day period.
Mr Critchley, the acting manager for the Gisborne Commercial Vehicle Investigation Unit, said police were astounded by the number of heavy vehicles speeding and "even more surprised" to find so many were logging trucks.
"This should be a huge concern for the transport industry and trucking companies," he said. "Drivers are not only putting their own lives at risk but they are also making the roads extremely dangerous for other road users.
"No one is going to survive a 44-tonne truck hurtling towards them at close to 120km/h."
The highest speed recorded was 118km/h in an area where the speed limit was 90km/h. Most were travelling between 100km/h and 108km/h.
The highway along the coast is renowned for its narrowness and sharp corners, Mr Critchley said.
"Truck drivers need to be more responsible with their driving, and trucking companies need to take some major responsibility for their staff and for the safety of the wider public.
"There may be different reasons why drivers are speeding - whether it's to do with hours or the remoteness of the highway - but there are some serious health and safety issues that companies need to address."
Mr Critchley said police had identified several companies that were the "worst offenders". They will be in contact with the operators, and infringement notices are expected to be issued to all drivers.
The numbers
2 days of checks
100 heavy vehicles caught speeding, including
98 logging trucks
118km/h in 90km/h was worst offender
- APNZ