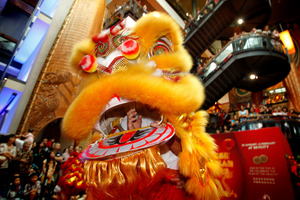 More Kiwis are turning to Asian martial arts, drumming and even lion dancing rather than play rugby or soccer on the sporting fields.
From Thai kickboxing to taekwondo and taichi, clubs and activities introduced after the second wave of non-European migration since 1987 have given New Zealanders plenty of alternatives to the tradition of playing sports in the weekends.
Marcel Taukamo, 22, grew up playing rugby on Saturdays but now spends weekends practising Chinese kung fu after a friend introduced him to a Pakuranga club three years ago.
"As a kid, of course I had dreams of being an All Black, but I think it's just all a bit over-rated, now that I've found something better" he said.
"With kung fu you learn to control your mind and use internal strength, but with rugby, it's just brute strength and it's just pretty shallow."
Michael Wells, the manager for Tamashii Taiko Drummers, said the group began in the 1990s for Japanese migrants to practise the ancient form of percussion drumming arts.
But now just a couple of its 48 members are Japanese, with most being Kiwis, American, South Africans, Brazilian and other Asians.
"I think a lot of us are accepting these as not just ethnic clubs, but activities that all of us can embrace and enjoy," said Mr Wells.
Rachel Morgan, 29, a Unitec music lecturer who has been drumming for two years, said she liked Taiko because it helped her "improve rhythm" and gives her "a good workout".
"As someone who teaches music, I see this as far more beneficial to me than either playing a sport or going to the gym," Miss Morgan said.
AUT engineering student Isaiah Esteban, 23, spends his Sundays practising lion dancing.
Filipino-born Mr Esteban has been with the E-Pacs lion dance troupe since 2006, and says it has helped him understand another culture.
"I've learned a lot about religions like Buddhism and the kind of values and traditions that are important to the Chinese," Mr Esteban said.
The troupe's founder, Peter Low, said lion dancing "teaches discipline, physical co-ordination and also helps the practitioner be more confident".
"the emphasis for teamwork here is far greater than normal team sports."
Massey University sociologist Paul Spoonley said these migrant-introduced clubs and activities had "enriched Auckland culturally" but had also significantly reduced the pool of participants from which sporting organisations could select players.
Our Asian migrant hall of sporting fame
Born South Korea: Lydia Ko, golfer
Youngest person ever to win an LPGA Tour event
South Korea: Danny Lee, golfer
Youngest ever winner of US Amateur Championship in 2008
China: Li Chunli, table tennis
2002 Commonwealth Games gold medallist
Migrant Kiwi Olympians 2012
South Africa: Alexis Pritchard (boxing), Glenn Snyders (swimming), Moira De Villiers (judo), Vaughn Scott (taekwondo), Chris Harris (rowing)
Nigeria: Amaka Gessler (swimming).
South Korea: Robin Cheong (taekwondo)
England: Hayley Palmer (swimming), Jim Turner (sailing), Ria Percival (football), Susannah Pyatt (sailing), Anna Green (football), James Musa (football), Thomas Smith (football), John Storey (rowing)
India: Siona Fernandes (boxing)
USA: Jenny Bindon (football), Alexandra Riley (football), Rebecca Smith (football)
Denmark: Lina Villumsen (cycling)
Australia: Stephanie Hazard (sailing), Alana Millington (hockey), Mahe Drysdale (rowing)
Germany: Shane Smeltz (football)
Ireland: Sean O'Neill (rowing)
Croatia: Marina Erakovic (tennis)
Zimbabwe: Ryan Sissons (triathlon).
The series
The Immigration Act 1987 radically changed the criteria for migrant entry to New Zealand, resulting in a surge in people coming from non-traditional source countries. This week, the Herald looks at how these migrant communities have changed Auckland.
Monday: Population - the changes, and how comfortable are we?
Tuesday: Religion - Christianity vs new religions
Yesterday: Food - from cafe latte to teh tarik
Today: Sports - tapping migrant talent
Tomorrow: Festivals - changing the way we celebrate.