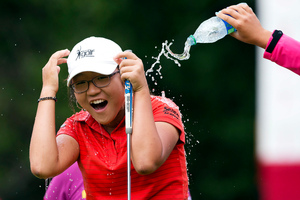 A shortage of local Asian sporting heroes and role models is preventing Asian migrants from participating in mainstream sports.
Having other things to do on weekends and sports being too expensive were the two main reasons Chinese students did not participate in sports, a Harbour Sports survey found.
But its Asian community co-ordinator Jenny Lim said a lack of role models also played a "huge part".
"Now if we've got someone like a Jeremy Lin [NBA basketball star] in the All Blacks, you can bet there'll be thousands of Asians wanting to play rugby, but we don't," she said. "As part of our Chinese sports forums this year, we got Li Chunli, who was obviously a really successful Asian sportswoman [in table tennis] and she attracted quite a lot of participants."
Miss Lim said few Asians here play rugby because "there aren't any Asian rugby stars" they can look up to.
Harbour Sports runs a programme called ActivAsian that aims to increase sports participation in the Asian community by helping regional sporting organisations engage and communicate better with these communities.
The survey found table tennis and badminton were the most popular sports for the Chinese.
Miss Lim said that although sporting organisations, like golf and tennis, were keen to reach out to Asian migrants, it has been a struggle to get rugby fully on board.
"Harbour Rugby has been involved with the programme only on a rather superficial level," she said.
"A lot of the sports that are on board, they've got to want to be involved with this active engagement, and rugby hasn't come on board as fully as such."
A Massey University study said language, cultural differences and religious requirements were challenges being faced by sporting organisations wanting more ethnic participation.
A cricket administrator said vegetarianism for after-match functions had not been considered in the past, but many of the new Indian participants were vegetarians.
Muslim girls were also put off sports such as netball because of the uniform requirements, and the unwillingness to allow them to cover their arms and legs, the report said.
The New Zealand Rugby Union also told researchers they were struggling to know how to attract Asian players.
Past efforts, including an open day and advertising in Asian newspapers and radio stations, and having information sheets translated into Mandarin, Cantonese, Japanese and Korean, have had poor results.
Miss Lim said many Asian migrants consider music and dance to be far more important than sports, and other club activities like Japanese drumming and martial arts were also taking away people from playing weekend field sports.
Connect2sport, a Sport New Zealand funded initiative backed by the Auckland Council, was launched last year to help connect youths from diverse ethnic backgrounds to the sports such as football and badminton.
Our Asian migrant hall of sporting fame
Born South Korea: Lydia Ko, golfer
Youngest person ever to win an LPGA Tour event
South Korea: Danny Lee, golfer
Youngest ever winner of US Amateur Championship in 2008
China: Li Chunli, table tennis
2002 Commonwealth Games gold medallist
Migrant Kiwi Olympians 2012
South Africa: Alexis Pritchard (boxing), Glenn Snyders (swimming), Moira De Villiers (judo), Vaughn Scott (taekwondo), Chris Harris (rowing)
Nigeria: Amaka Gessler (swimming).
South Korea: Robin Cheong (taekwondo)
England: Hayley Palmer (swimming), Jim Turner (sailing), Ria Percival (football), Susannah Pyatt (sailing), Anna Green (football), James Musa (football), Thomas Smith (football), John Storey (rowing)
India: Siona Fernandes (boxing)
USA: Jenny Bindon (football), Alexandra Riley (football), Rebecca Smith (football)
Denmark: Lina Villumsen (cycling)
Australia: Stephanie Hazard (sailing), Alana Millington (hockey), Mahe Drysdale (rowing)
Germany: Shane Smeltz (football)
Ireland: Sean O'Neill (rowing)
Croatia: Marina Erakovic (tennis)
Zimbabwe: Ryan Sissons (triathlon).
The series
The Immigration Act 1987 radically changed the criteria for migrant entry to New Zealand, resulting in a surge in people coming from non-traditional source countries. This week, the Herald looks at how these migrant communities have changed Auckland.
Monday: Population - the changes, and how comfortable are we?
Tuesday: Religion - Christianity vs new religions
Yesterday: Food - from cafe latte to teh tarik
Today: Sports - tapping migrant talent
Tomorrow: Festivals - changing the way we celebrate.