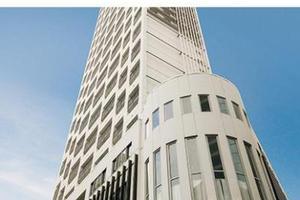 A woman and a baby plunged to their deaths from an Auckland building this afternoon.
The pair fell from Auckland Harbour Oaks Hotel and Apartment facilities on Gore St near the city centre at 5.22pm, according to a statement by police.
It is not known what the relationship between the two was, police said.
The scene was secured in the swimming pool area of the complex while inquiries were carried out.
Police appeared to be taking photos inside an apartment on about the 15th floor, and lowered what appeared to be a tarpaulin from the floor above to shield the balcony outside the apartment.
Police said the bodies would remain where they lay until a scene examination had been completed.
St John said in a statement it was alerted to the incident at 5.29pm, and sent an advanced life support ambulance crew and team manager to the scene.
The fall was "from a significant height'', the statement said.
St John was providing support for its staff due to the "traumatic nature of the incident''.
A resident from a 4th floor apartment in the complex, who did not want to be identified, said he arrived home about 5.45pm to find dozens of police cars and the building in "complete lockdown''. It was 6.30pm before he was allowed back up to his room.
He said people who were living or staying in the building had to prove they were meant to be there by presenting identification and a security swipe card.
"They [police] had to interview people as they came down. At that stage the bodies were still here,'' he said.
The resident said he has personal friends who are young staff members at the hotel. "They were obviously upset.
"They would have had the most direct involvement ... hands-on experience having seen the carnage.''
He said staff provided no information as to what had happened.
A woman who had parked her car in the city said she arrived in the area about 6pm to find five or six police vehicles and a first response ambulance parked near the building.
The woman, who did not want to be identified, said part of Gore St was blocked off and about 20 people were standing outside the hotel, but there was no other sign of what was happening.
Most of the towers overlooking the pool area are office buildings, which appear to be vacated.