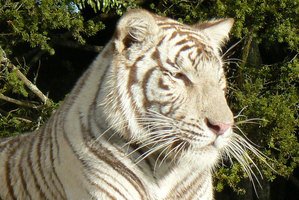 It took up to 10 shots from a shotgun and rifle to kill a tiger that fatally attacked a handler at Whangarei's Zion Wildlife Park, a coroner's hearing has heard.
The inquest into the death of Clifford (Dalu) MnCube is being heard before Northland Coroner Brandt Shortland at Whangarei District Court this week.
Mr MnCube, a 26-year-old born in Zimbabwean, was employed at the park - home of TV's The Lionman series - when he was killed by a white male Bengal tiger Abu on May 27, 2009.
Today Andrew Ward, who was a builder employed at the park on the day of the fatal mauling, described how the tiger was so powerful it took up to 10 shots to kill it - up to seven shots while it was attacking Mr MnCube and another three or four after his prone body was pulled from the big cat's enclosure.
Mr MnCube and fellow big cat handler Martin Ferreira were cleaning out a tiger enclosure at the park that day that contained the male Abu and a female Rewa.
Mr Ward said he was felling trees not far from the enclosure when he heard somebody yelling for a cattle prod to be taken to the enclosure.
When he got to the enclosure with the prod he saw Abu ``tossing'' Mr MnCube around.
He hit the big cat on the nose with the cattle prod and was amazed that it had little effect on the beast. Abu continued to attack Mr MnCube so Mr Ward got a shotgun and three shots were fired at the tiger, then another three or four shots were fired before it finally let go of the prone keeper.
Mr Ward said a 4X4 was then backed into the enclosure, but its path was blocked by a log and as Megan Busch, daughter of then park owner Patricia Busch, was trying to move the log, Abu went for her.
He had to pull Ms Busch out of the way to prevent the tiger getting her and the cat reached the gate moments after he closed it.
Abu was then forced away with a fire extinguisher and Mr MnCube's body recovered and taken to an ambulance that had arrived at the park's front gates, but he was dead by that time.
Mr Ward said he then went back to the enclosure and Abu was still alive so up to four shots from a rifle were then needed to finally kill the tiger.
Mr MnCube's partner Sharon Arnott may give evidence in the hearing this afternoon. Coroner Shortland said he would reserve his findings in the case.
For more articles from this region, go to Northern Advocate