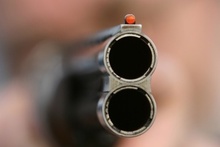 An Upper Hutt woman pleaded for her life as she was forced to open a safe during a "horrifying" home invasion in which she and her husband were bound and threatened with sawn-off shotguns.
Yvonne Wiffen recounted her ordeal yesterday at the trial of two men alleged to have stolen between $50,000 to $80,000 from her Silverstream home about 6pm on June 19 last year.
Jeremy Gorinski, 34, and Dinesh Manoharan, 36, have pleaded not guilty to one charge each of aggravated robbery.
Mrs Wiffen told a Wellington District Court jury she was about to prepare dinner for herself and husband Malcolm, both in their 60s, when she looked up to see three men standing in the kitchen.
She had no idea where the men had come from and did not hear them enter.
One of the men told her it was a robbery and demanded gold and cash, while the man standing closest to her pointed a double-barrel shotgun at her.
"As soon as they spoke and I saw the gun I just screamed."
Mrs Wiffen said the men rushed at her and pushed her down so she could not see them.
Her husband came in from the dining room and there was a brief struggle.
The intruders then bound the couple's hands with plastic ties, took them to the lounge and laid them down on the floor, where pillow cases were placed over their heads and a blanket was draped over them.
The men ransacked the couple's bedroom before one of them led Mrs Wiffen down to the basement, where a safe contained more than $50,000 in cash stored in plastic takeaway containers.
"They were wanting the combination and I told them I didn't know it off by heart," she said.
Mrs Wiffen told one of the intruders where the combination was written down.
One of the men then lifted the pillow case from over her eyes and forced her to open the safe at gunpoint.
"I went on pleading, 'Please don't shoot me if I can't get this open for the first time'."
Mrs Wiffen said it was a "great relief" when she was able to open the safe on her first try.
She was then led back up to the lounge, where her husband remained on the floor with a shotgun pressed to his back.
Mrs Wiffen said the pillow case was still over her head as she waited for the men to leave.
After a few minutes of silence, she freed the tie from one of her hands before freeing her husband and calling police.
Crown prosecutor Sally Carter said there was no doubt it had been a "horrifying ordeal" for the couple.
She said the men took about $50,000 to $80,000 in cash in different denominations, including $20,000 worth of $20 notes which were tied up with rubber bands, as well as items including jewellery.
She said the Wiffens could not directly identify the men, who had been dressed in dark clothing and had disguised their faces.
The case instead rested on circumstantial evidence, including sightings of a group with large sums of cash in the days after the robbery.
Ms Carter said a sawn-off shotgun, ammunition and items belonging to the Wiffens were found near Gorinski and Manoharan when they were arrested at a Wainuiomata address on June 24 last year.
Shoeprints at the Wiffen's house matched a pair of Gorinski's shoes, while Mr Wiffen's description of an intruder's sneakers matched a pair of Manoharan's shoes.
Manoharan's lawyer Christopher Stevenson said he was not at the house and had "nothing to do with it".
Gorinski's lawyer Keith Jefferies said it was a flawed case because the Crown had singled out two people and decided to build a case against them.
"Well that's not right. Mr Gorinski was not in that house and there was no evidence he was there."
The trial before Judge Bruce Davidson and a jury of five men and seven women is set down to run until next week.
- APNZ
By Matthew Backhouse @Mbackhouse

Email

Matthew