Opposition leaders say only independent inquiry will put public's doubts to rest.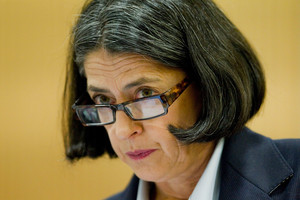 Opposition parties are continuing to push for a wide-ranging independent review of the GCSB-Dotcom affair after a top lawyer with close connections to police was hired to vet a police investigation into the matter.
Police yesterday confirmed they would follow up on Green Party co-leader Russel Norman's complaint over the Government Communications Security Bureau's (GCSB) unlawful spying on Mr Dotcom and his associate Bram van der Kolk.
Police Commissioner Peter Marshall said a senior police investigator would be appointed to assess Dr Norman's complaint. Former Crown prosecutor Kristy McDonald, QC, would assess and review any recommendations arising from the investigation.
The investigation is a delicate matter for police, given their role in first asking for the GCSB's help to monitor Mr Dotcom and then in supplying the bureau with incorrect information about his residency status.
Furthermore, Detective Inspector Grant Wormald, who oversaw the paramilitary-style police raid on Mr Dotcom's Coatesville mansion on January 20, appeared to offer an incorrect answer when questioned at a High Court hearing in August about the GCSB's role in monitoring Mr Dotcom.
Ms McDonald herself has close ties to the police, having acted for them in a number of civil cases including the Commission of Inquiry into Police Conduct in 2007. She has also acted as a "patron" of trainee police officers.
Dr Norman said his party would be watching the investigation "very closely in light of those connections".
Although he was pleased with the police decision to investigate which he said should include interviews with senior officers, the minister responsible for the GCSB, John Key, and his deputy, Bill English, the Greens still believed a wider independent inquiry was needed.
Labour leader David Shearer said Ms McDonald's police ties could affect public confidence in the investigation.
"I don't want to impugn her integrity or honesty but this is a really unfortunate inquiry from the start and it really rests on the integrity of Kristy McDonald because that's the real confidence that the public have," Mr Shearer said.
The involvement of senior police and ministers in the affair meant a more independent inquiry was required.
"There's no way the police are going to be able to look into the failures of oversight and the lines of accountability that go all the way to the Prime Minister's own office ... we need a proper independent inquiry."
NZ First Leader Winston Peters also said the police investigation was not good enough.