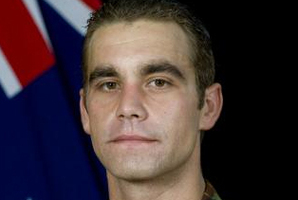 The family of Private Michael Ross say they are relieved the soldier's body has been found, a week after he fell into a lake near Waiouru.
Private Ross's parents, George and Eileen, have been at Lake Moawhango since their son went missing.
George's cousin, Gordon Ross, said he had spoken with another relieved relative at the lake after a body, believed to be that of Private Ross, was found today.
"I guess the ultimate was to have his body back and it's a bit of closure,'' Mr Ross said.
Mr Ross said there was never an indication that the search would be called off until Private Ross's body had been found.
The family is still in the dark about what led to his death.
"[How did it happen] ... I would really love to know, but I can't seem to get any details about how he came to be in the lake,'' Mr Ross said.
"I just don't know. It's a question I'd be asking myself, about how did that actually happen.''
Mr Ross said there was "nothing to dislike'' about the 29-year-old soldier.
"He was just very family orientated and very respectful.''
The family is yet to make funeral plans.
Specialist sonar equipment was used to pinpoint the spot where the body was found.
Inspector Steve Mastrovich said police and Navy divers found the body in about 40 metres of water about 2.30pm today.
Divers and support craft from the Auckland Police Maritime Unit brought the body to the surface and ashore a short time later.
The body was taken to Waiouru Military Camp and will then go to Palmerston North for a post mortem examination.
Mr Mastrovich said police believed the body was that of Private Ross but that needed to be formally confirmed as part of the coronial process.
"This has been a very long and difficult week for the family and friends of Private Ross and also for the many people who have assisted in the search.
"Although we would have wished for a happier outcome, we're just pleased that in recovering the body we're able to give some comfort to those who are grieving.''
Weather conditions coupled with the size and depth of the search area made it a challenging operation for the divers, Mr Mastrovich said.
"Specialist sonar equipment was needed, along with Navy support, to help identify areas of search interest and dive to the depths required.''
Police and New Zealand Defence Force staff had worked "tirelessly'' on the search and recovery mission, he said.
Police would continue the investigation on behalf of the coroner into the circumstances of how Private Ross was lost overboard from an inflatable boat while on a training exercise.
Commander Training and Doctrine, Colonel Evan Williams, said at times more than 100 personnel had been involved in the search.