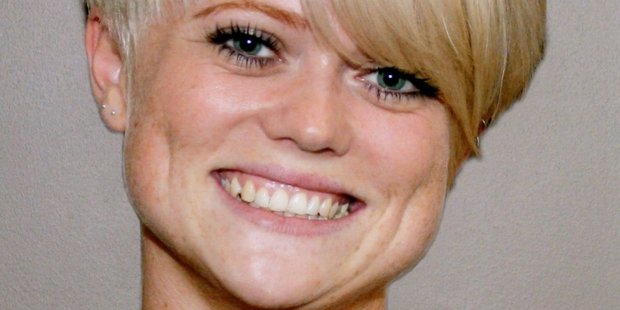 Fay Roberts' boyfriend had been drinking and was overtaking at speed in South Auckland when he crashed and killed her.
Felipe Gacitua was sentenced to three years in prison and disqualified from driving for four years after previously pleading guilty to reckless driving causing death and reckless driving causing injury.
The High Court at Auckland was today told the pair had been visiting Ms Roberts' family before Gacitua got behind of the wheel of his Toyota Corolla with Ms Roberts in the front passenger seat shortly before midnight on August 13, last year.
Following close behind was Gacitua's friend Rowan Matthews.
Justice Geoffrey Venning said Gacitua, 24, was driving at an estimated 100km/h in an 80km/h zone and at one point had to cross double yellow lines to overtake a car on Alfriston's Mill Rd.
It was a later overtaking manoeuvre that resulted in a head-on crash that killed Ms Roberts, a young hair designer from east Auckland.
Crown prosecutor Anna Longdill described Gacitua's driving as "showing off".
She said it was only the second time the courts had dealt with such a charge since Parliament doubled the maximum jail sentence to 10 years last year.
She said the crash was not just a momentary lapse of judgement but was the third dangerous overtaking manoeuvre by Gacitua on the night.
Members of Ms Roberts family held framed photos of the 25 year-old in court today as they told of the pain and heartache at their loss.
Ms Roberts' father Harvey described how his family relived the moment the police brought news of Ms Roberts' death in the middle of the night.
"The door knocker has been disabled because no one can bear hearing it."
He wept as he described visiting the scene and seeing sawdust in the road, covering the blood of his daughter.
"Fay would come to me to fix broken things - toys, cars or whatever issue she had - and I feel absolutely useless that I can't do anything about this."
He said his daughter and wife Karen had started a hair salon together in Tamaki Heights but that was now on the "point of collapse".
"How do you carry on a family business when she is not there?"
He told Gacitua that the crash could have been avoided.
"If not for your actions, your behaviour, your attitude, and your contempt for the road and the driving, then she would still be with us. Your actions, Felipe, your actions have caused all of this."
Gacitua was not represented by a lawyer but counsel assisting the court, Marie Dyhrberg, said Gacitua was sorry for what had happened and had written a letter to the Roberts family.
Justice Venning said Parliament had sent a clear message when it increased the maximum jail sentence.
"You engaged in a consistently bad and dangerous piece of driving."
He said that despite Gacitua not being over the legal limit for alcohol, it was an aggravating factor.
He took into account Gacitua's remorse, his age and previously clean record. The judge also reduced his final sentence to reflect Gacitua's early guilty plea.
Following the sentence, members of the Gacitua family embraced Mr and Mrs Roberts in the public gallery.
- APNZ