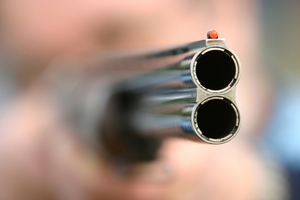 Two police officers who wrestled a loaded shotgun from a masked man being hunted over a terrifying armed home invasion this morning have been praised by Police Commissioner Peter Marshall.
A shot was fired during the drama in which two men, both wearing balaclavas, forced their way into the Christchurch home where the woman and children were sleeping and demanded money.
One man was carrying a shotgun and police said a single shot was fired inside the house in the quiet northern suburb of Redwood.
The woman managed to escape and called for help.
She was hurt when she got out of the house through a broken glass door.
A neighbour called police after hearing the noise just after 1am.
The offenders had fled by the time police arrived but one was tracked to a nearby property.
When he was confronted, he pointed a loaded shotgun at police but was brought down by a police dog.
"Dog handler Constable Lyal Bayliss and police dog Brock showed remarkable courage by tackling the offender and disarming him,'' said Mr Marshall.
"Having a loaded weapon pointed at you is terrifying and to react in such a manner is a very brave thing to do. We are fortunate to have these officers in our community.''
Brock was able to subdue the offender, while Mr Bayliss wrestled him to the ground with the assistance of Constable Darrin Pavelka.
"We expect a lot of our officers, as we rightly should, but it takes considerable courage to take on an armed and threatening offender,'' Commissioner Marshall added.
The two children were unhurt and were taken from the property by police and family members.
James Carpenter, a 30-year-old labourer from Aranui appeared in Christchurch District Court this morning.
His lawyer Shannon-Leigh Litt asked for Carpenter to be remanded without plea in custody for a fortnight.
She also asked for his name to be suppressed as he hadn't yet had the chance to inform family he was facing four serious charges.
Judge John Clapham stood the case down for more details on an interim name suppression application but when it was recalled the bid was dropped.
Carpenter is due back in court on October 11 on charges of robbing a woman of cellphone, wallet and keys, and three firearms charges.
Police said they were seeking two other offenders, one of whom was believed to have been waiting in a vehicle nearby.
- APNZ