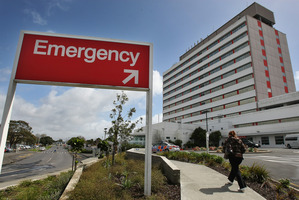 A woman with a history of cancer died, after North Shore Hospital refused to order tests which would have diagnosed bone cancer.
Health and Disability Commissioner Anthony Hill has criticised the hospital for failing to adequately investigate the woman's condition.
In 2002 the woman, who has not been publicly identified, had a mastectomy after suffering invasive breast cancer.
She was told she had an 80 per cent chance of cancer returning within five years.
In 2007, she experienced sudden back pain without having injured herself.
She was x-rayed and seen by a number of doctors at North Shore Hospital, and was diagnosed with muscle spasms.
The woman asked for an MRI scan from a senior doctor, but he rudely denied her request.
Her pain continued, and three months later an MRI scan requested by her doctor revealed cancer in her spine and pelvis.
She died from the illness last year.
Her husband told the commissioner the hospital had a "tunnel vision" approach to his wife's diagnosis.
Mr Hill agreed and said each doctor who saw the woman looked at her only in terms of their own specialist viewpoint "without having regard to the bigger picture".
"It is a case where clinicians should have continued to ask the pertinent questions while the patient was under their care."
The hospital staff also failed to consult with the Oncology Unit while the woman was admitted to the hospital.
Included in Mr Hill's recommendations were for the relevant hospital services to review their processes and write an apology letter to the woman's husband.
Waitemata District Health Board's chief medical officer Andrew Brant said the the DHB accepted the commissioner's findings.
But he refuted the claim by the woman's husband that staff had tunnel vision.
"Back pain like this is a very common condition," he told Radio New Zealand.
"But as Mr Hill has said when questions are raised and the pain is ongoing and there is a background of cancer in the past, we absolutely accept we should have questioned the nature of that pain and we accept that finding."
Dr Brant said since 2007 there had been an improvement in communication and availability of information between clinicians.
"This vastly reduces the likelihood of it happening again."
- APNZ