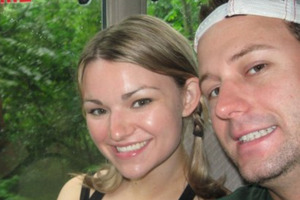 The parents of a newlywed American couple whose honeymoon was shattered by a horror smash, have thanked New Zealanders for their kindness and support.
Kallan Stithem, 31, was killed and wife Kirsten Steinke, 28, was critically injured when a truck collided with their car as they pulled out from Waitomo Caves Rd on to State Highway 3 on September 20.
The honeymooners from Denver, Colorado had been married less than a week before the crash.
Parents Gary and Jean Stithem and Jim and Gerri Steinke today (Mon) thanked everyone for their continued support, offers of help and immeasurable kindness.
Mr Steinke said they had very little ability to respond to everyone as their focus was on their daughter, who remains in a critical condition in a Waikato Hospital intensive care unit.
"But please be assured we are reading every email and every message passed onto us. In time we will respond to them."
Both sets of parents arrived in New Zealand just over a week ago.
Mr and Mrs Stithem returned to Denver last week with their son's ashes.
A vigil, held in downtown Denver last Thursday night local time (Friday afternoon NZT), was attended by more than 100 people.
- APNZ