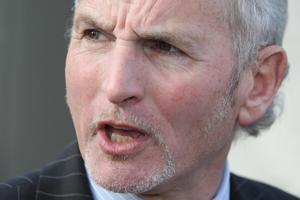 RadioLive has been ordered to apologise over a heated interview by controversial talkback host Michael laws in which he asked a woman "can you wear a muzzle".
The comment amounted to unacceptable personal abuse and Laws' over-aggressive approach breached the standard of fairness, the Broadcasting Standards Authority found.
The complaint arose from an interview with American Pit Bull Terrier Association spokeswoman Karen Batchelor in March.
In the interview Laws asked her about dog bites and accused Ms Batchelor of misquoting statistics and making untrue statements, prompting her to complain to Radioworks.
Radioworks accepted Ms Batchelor referred to ACC statistics correctly and Laws' comment "can you wear a muzzle" amounted to personal abuse.
However, not enough action was taken, and it upheld Ms Batchelor's complaint that the broadcaster had breached the standard of fairness.
The criticism directed at Ms Batchelor overstepped the boundaries of fairness by straying into "abusively personal" territory, it said.
"In our view, the cumulative effect of Mr Laws' comments, and in particular his repeated comparison of Ms Batchelor with her dogs, amounted to a sustained and personal attack on the complainant in a manner that was unfair."
The authority ordered the station to broadcast a statement summarising its decision, acknowledging Ms Batchelor was correct in quoting ACC statistics and and saying it was unfair for Laws to call her a liar.
The statement should also include an apology to Ms Batchelor for the way she was treated, it said.
A further complaint alleging a breach of accuracy was not upheld by the BSA.
According to guidelines, talkback radio will not usually be subject to the accuracy standard, except when the presenter makes an unqualified statement of fact.
"While he said that it was 'seriously untrue' that there had been no deaths in New Zealand from a pitbull attack, he readily admitted that he had not done the research," said the finding.
It is not the first time Laws has breached broadcasting standards.
In July he was found to have breached good taste and decency standards over comments directed to the media, specifically the Herald on Sunday, about the Teapot Tape saga in which he said "If I had a gun I'd shoot them, put them out of their misery".
The BSA supported Laws' right to publicly criticise the media but did not endorse violent language directed at identifiable people,which "may normalise violent behaviour".
- APNZ