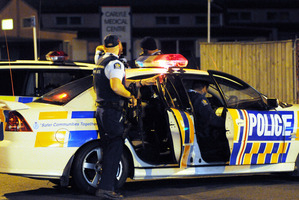 A man is fighting for his life after being run down by a ute following a street brawl in Rotorua.
A brawl involving a group of men armed with baseball bats, fence palings and shovels broke out in Koutu yesterday afternoon before the man in his 30s was hit by a vehicle.
Rotorua police say the man, who is fighting for his life, suffered serious injuries including compound fractures and arterial bleeding.
Senior Sergeant Brendan Keenan said the incident started between gang members at a dairy about 4pm.
It ended at a nearby residential property.
"The man, who is now the victim, hopped into a car and has gone to an address on Koutu Rd where he and some others have gone into an address for some retaliation with weapons - baseball bats. It resulted in the victim being run over by a vehicle and he is now in hospital with a Status One [critical injuries]."
The Daily Post was at the scene as a blue ute reversed out of a driveway yesterday afternoon and came under attack from a group of men armed with planks of wood and bats.
The driver of the truck then drove back into the driveway, hitting the man.
He was admitted to Rotorua Hospital in a critical condition.
A neighbour, who didn't want to be named, saw the incident and believed there had been a child's birthday party being held at the property where the ute came from.
The neighbour believed the driver was trying to get away when he hit the man.
The witness said the trouble started when a group of young people threw a rock at a car and smashed the back window of a Mercedes, which then drove away to pick up more people and returned.
Police said last night no arrests had yet been made.
For more articles from this region, go to Rotorua Daily Post