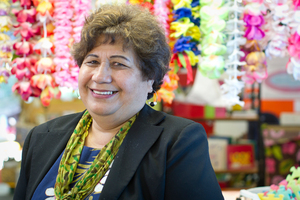 Despite 38 years here and New Zealand citizenship, Leata Tipi, 61, still considers herself "totally Samoan" and dreams of going "home" to retire one day.
Her mission in life, she says, is to help Samoans in New Zealand "remember who they are" and "maintain their Pacific identity".
Mrs Tipi owns a Samoan preschool, Leataata o Tupulaga ole Pasefika, translated to mean "shadow of future generations", where she runs a Samoan immersion programme aimed at helping children and their parents keep their Pasifika values.
"I have been running this immersion programme on and off since 1993 to help my people remember who they are and what they are, and so that they can be Samoan and be proud to be Samoan," she said.
"Too many Pacific Islanders here are losing their values, like respect for the elders and putting family first, and it is important that those who are born here don't forget what they are and where they came from."
More than 50 children and their parents, and some grandparents, attend her programme in Massey, West Auckland.
"Even if you are born here and speak English well, even if you mix and mingle only with palagi, they will still identify you as a Pacific Island or a Samoan person."
"That's why it's so important for us to know ourselves who we are ..."
People from the Pacific started moving here in waves that began in the late 1950s as unskilled or semi-skilled workers in the then expanding manufacturing sector.
But antagonism towards them grew following the oil crisis in 1973, and growing unemployment saw them being blamed for taking jobs of New Zealanders and for the deterioration of Auckland inner-city suburbs and rise in crime.
In 1986 an estimated 86 per cent of those prosecuted for overstaying were Pacific people - but only a third of overstayers were from the Pacific.
Massey University sociologist Paul Spoonley said many Pacific people still had "scars" from the antagonism. "It would be harder for those who came in the 1970s and 80s to feel for New Zealand than the more recent Pacific arrivals," he said.
"The dawn raids on homes of alleged overstayers [in the 70s and 80s] and being targeted by politicians as a threat, the scars can still be quite deep."
He said attitudes towards Pacific Islanders changed during the wave of Asian migration in the 1990s, as people in the community began to make an impact on sports and public life.