Mother rescues son who was trapped in clothesline.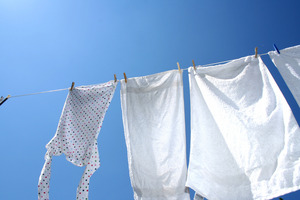 An 8-year-old boy is fighting for his life after a dressing gown became tangled around his neck in a freak accident at his home.
It is understood Manaaki Ropiha was standing on a box and playing at the clothesline behind his Panmure home when he slipped and became caught up in the gown.
His distraught mother, Kara Ropiha, pulled him from the line and rushed him to a neighbour who performed CPR until emergency services arrived.
St John ambulance staff arrived at the house just after 10am yesterday and took Manaaki to Auckland's Starship Hospital in a critical condition. He was in an induced coma last night.
Neighbour Charlotte Liddicoat worked on him until the ambulance arrived. "It was a horrible, horrible accident," she said. Liddicoat knows Manaaki well, both as a teacher aide at nearby Tamaki Primary School, and as a neighbour of five years.
"He is a lovely boy, I can't imagine what his mother is going through," she said.
Victim Support had visited her house to offer help to her children who had seen their mother working on Manaaki.
"It was really awful and it was horrible for these little ones to see their friend like that."
On the school website, a grinning Manaaki names Bruno Mars as his favourite musician and Subway as his favorite food. He said he wants to join the Army when he grows up.
Senior Sergeant Junior Abraham said the boy had somehow wrapped a dressing gown tie around his neck.
He had been was unable to call for help and the boy's mother was unaware of what had happened until she turned around.
Ann Weaver from Safe Kids warned: "We don't want to stop children having fun but we need to recognise how something that just seems like fun can turn into a disaster."