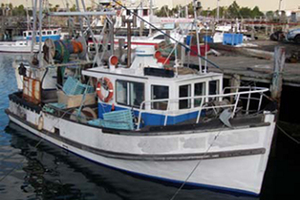 High seas continue to hamper the police dive squad in its attempt to search the wreck of the Governor fishing boat, which sank in Fiordland two weeks ago.
Neither man on the Greymouth-based boat; skipper Kevin Cosgrove and his deckhand Nirvana Reynolds; has been seen since.
Yesterday, the dive squad dropped the remote operated vehicle (ROV) at the wreckage site.
"They obtained general footage that further confirmed that the wreckage is that of the Governor, Western Southland sub-area commander Senior Sergeant Cynthia Fairley said.
"However, because of safety risks due to sea conditions, they were unable to operate the ROV in close proximity to the wreckage.''
The weather changed late yesterday morning and Ms Fairley said tides and swells had increased which meant the dive squad had to abandon any further investigative searching and return to Milford Sound.
Police and search and rescue advisers were to meet again today to discuss their next move.