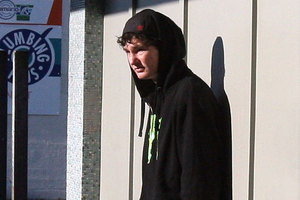 A teenager whose driving rampage included deliberately ramming two police cars has been warned he's on the path to prison.
Judge Denys Barry told Dylan John Terry, 17, of Masterton yesterday that it was rare for judges to hear of acts of such "concentrated stupidity" of the type Terry had embarked on in mid-June.
Terry had earlier pleaded guilty in Masterton District Court to burglary, reckless driving, failing to stop for police and two charges of aggravated assault relating to ramming the two police cars.
He was sentenced to six months' community detention, nine months' supervision, had his driver's licence cancelled for 18 months and was ordered to pay reparation of $33,450 at the rate of $50 a week.
The court was told he went on a reckless driving binge after leaving a party, having arrived there already drunk and then drinking at least 12 bourbon and cokes.
He refused to stop for police who pursued him, driving through mid-Masterton at high speed, with his female passenger screaming at him to stop.
When he did stop, he deliberately reversed into a police patrol car, again fled and later rammed another patrol car, causing thousands of dollars worth of damage.
Terry abandoned the vehicle he had been driving and when he was found denied he had been driving, but handed himself in to police later.
Defence lawyer Jock Blathwayt described the teenager's actions as "a brain explosion", saying his client realised he was in trouble and had done wrong.
But Judge Barry said a probation report revealed Terry had shown little remorse for his offences or towards his victims.
"Seldom does one strike two pieces of concentrated stupidity, let alone attributed to one person within two weeks," Judge Barry said.
Terry was on a path to prison, a journey that would not be too long in coming, the judge warned.
"These are serious offences that you wrought on a law-enforcement agency trying to keep the streets safe and an organisation founded to help those wanting education in the rural sector," Judge Barry said.
For more articles from this region, go to Wairarapa Times-Age