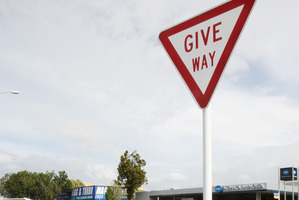 Why on earth has a give-way sign suddenly appeared at the left turn from Grafton Rd into Carlton Gore Rd (beside the former Whitecliffe Art School), contradicting the new give-way rules? All it does is cause confusion for drivers turning right into Carlton Gore Rd from the opposite direction. Not being able to see the sign (it's down low, barely visible even to the traffic it's intended for), they give way according to the new rules, and are then surprised and annoyed (even angered) as the left-turning vehicle stays put. Much gesticulating and uncertainty then occurs ("You go", "No, you go") and there will eventually be a collision.
Bruce Morley, Grafton
Many people are confusing the new give-way rule for uncontrolled intersections with the rule for the give-way control. Where a give-way or stop sign is erected the control must be obeyed, and takes precedence over other rules.
The give-way control on the left-turn slip lane from Grafton Rd into Carlton Gore Rd was installed about 2005. A new sign was recently erected to supplement the existing low-level sign.
This slip lane is separated from the straight through lane by a painted splitter island, so technically speaking, a vehicle which has turned right into Carlton Gore Rd is travelling straight ahead as it passes the left-turn slip lane. Therefore the turning vehicle (turning left) must yield to the through traffic.
It is quite conventional for left-turn slip lanes to be controlled by a give way.
My neighbour has a row of young trees along our common boundary. These have now grown well above the fence height, and are beginning to obstruct our view of the Waitakeres as we sit on our patio. I have approached him to have the trees trimmed while still young, but he refuses to do so. What are my options?
Chris Dent, Auckland.
Sitting down and discussing the matter calmly to see if a compromise can be reached is always the best solution. If this is not possible, or if the neighbour is intractable, the Citizen's Advice Bureau website (what a helpful site this is) says you can seek legal assistance.
You can apply to the district court for an order requiring your neighbour to remove or trim any tree on their property which is:
•Causing damage, injury or loss to your life, health or the property, or anyone else you live with.
•Obstructing your view.
•Diminishing the value of your house.
•Reducing the enjoyment of your property.
You will need to be able to produce proof of the above.